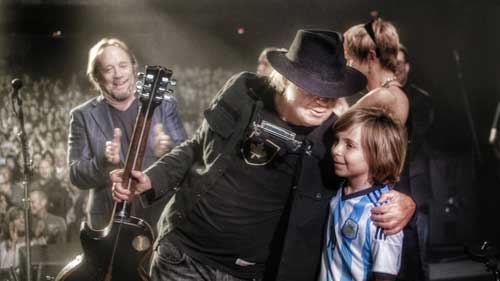 Thu, Jan 18, 18
Stephen Stills Teams Up With Neil Young For Autism Benefit
Sheryl Crow, Burt Bacharach and Jack Black will join former Buffalo Springfield bandmates for Light Up the Blues benefit in April
Stephen Stills' autism awareness benefit concert Light Up The Blues is returning this year with a packed lineup of performers and a new, bigger venue. Neil Young, Sheryl Crow, Burt Bacharch, Judy Collins, Chris Stills, Jack Black, Christina Applegate will join Stills. The event's house band will feature guitarist Mike Campbell, keyboardist Benmont Tench, drummer Steve Ferrone (playing together in public for the first time since Tom Petty's death) alongside bassist Zev Katz, guitarist Kevin McCormick and pianist Russell Walden. The show will be held at the 3,400-seat Dolby Theatre in Los Angeles on April 21st.
Stills' 21 year-old son Henry was diagnosed as autistic shortly before his third birthday. In 2013, Stills played the first Light Up The Blues concert to raise funds for Autism Speaks on a bill that included Crosby, Stills and Nash, Ryan Adams, Don Felder and Lucinda Williams. It was held every year afterwards through 2017, growing from the Club Nokia to the Theater at the Ace Hotel to the Pantages Theater in 2015 and 2016. Tickets are now available for this year's event.
"The reason we started Light Up The Blues was out of the void of me not having to be micromanaging Henry so much, as he was finally in a good place," Stills' wife Kristen tells Rolling Stone. "Stephen and I wanted to give back to families that don't have time and resources to make their kid's life a full-time job with lots of overtime."
Last year was the first time they didn't hold a concert since they started the organization. "Neil [Young] stopped by our house one day last year," says Kristen. "He said, 'Stephen, man, we gotta do Light Up The Blues again.'" Stills couldn't have agreed more. "He said, 'Look, I'm out of the Bridge School. And now it's over to you,'" says Stephen. "I watched how he did the Bridge School benefits and I got great lessons from it."
Returning to the Pantages was impossible this year due to Hamilton playing there, but in 2014 Stills saw Young play a show at the Dolby Theatre and fell in love with the beautiful, ornate building. "I fought like a demon for it because it has a stage the size of my house," he says. "We have room for everything. We can move grand pianos in and out. It's the best place I've ever been. Frankly, I never want to go bigger than a theater. We went through a lot of options, but I was very stubborn about getting the Dolby."
As in past years, Kristen has been deeply involved in the logistical planning. "People assumed I knew a lot about production," she says. "But I had to remind everyone that all I knew was how to get my laminate and meal ticket and then hang out. That was my knowledge of how it worked. I just had to dive into it and ask a lot of questions. It's been a huge learning curve and truly life-changing."
At age 89, Bacharach rarely performs in public, but he had an autistic daughter that took her own life and was anxious to participate. He'll perform "Dancing With Your Shadow," a song he recorded last year with Sheryl Crow for the movie Po. Jack Black will serve as the emcee for the event, a role he's taken on at many past Light up The Blues benefits.
The money they raise at Light Up The Blues will be given to Autism Speaks, the largest autism non-profit in the world. "We pretty much give them unrestricted dollars," says Kristen. "We have enough faith and trust in them to know where the money should land. A lot of their money goes into science and research along with child and family services, whether it's for someone high functioning or low functioning."