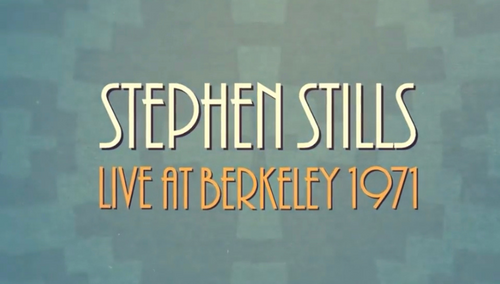 Wed, Mar 01, 23
Stephen Stills Live At Berkeley 1971 Announce
Previously Unreleased 14-Track Live Album Set For April 28 Release From Iconic Artists Group and Omnivore Recordings
Includes Intimate Solo Acoustic and Full Band Performances featuring The Memphis Horns and Guest Appearance by David Crosby.
Available in 2LP, CD, Digital or Deluxe Package
Listen/Share: "Love The One You're With"
Los Angeles, CA – March 1, 2023 – Culled and hand-picked by Stephen Stills from his archive, Iconic Artists Group and Omnivore Recordings today announce the April 28 release of Stephen Stills Live At Berkeley 1971, a 14-track collection of previously unreleased era-defining live performances from that tour recorded over two nights at the Berkeley Community Theater in Berkeley, CA, on August 20 and 21, 1971.
In the summer of 1971, Stephen Stills embarked on his first solo tour supporting his second album, opening each show with a solo-acoustic first set and closing each night with a riveting electric one. This historic debut trek, dubbed "The Memphis Horns Tour," found Stills at peak performance.
Those in attendance at the Northern California shows were treated to one of the most unique and special of the tour. The collection, which opens with Stills' biggest hit, "Love the One You're With," the first single unveiled from the album, features a set list of instantly recognizable songs, including a seamless medley of "49 Bye Byes and "For What It's Worth, unexpectedly played on piano. David Crosby appears on "You Don't Have To Cry" and "The Lee Shore."
"The intimacy of the Berkeley Community Theater seemed to serve as a focal point between the audience and the energy surrounding the social climate of the day," offers Stills. "It was my first tour as a solo artist and these shows were raucous and unrestrained, captured here in these recordings." 
Stephen Sills Live at Berkeley 1971 is now available for pre-order in various configurations, including 2LP, CD, digital, and a deluxe package. The deluxe package, encased inside a premium box, contains 2LP, four 8x10 photos by famed photographer Henry Diltz taken during Stills' first solo tour,and a numbered limited-edition self-portrait framed lithograph,available exclusively at Stephen Stills Webstore. 
Backed by The Memphis Horns, along with a cast of Stills' friends, including Dallas Taylor (drums); Calvin "Fuzzy" Samuels (bass); Paul Harris (keyboards); Steve Fromholz (guitar); and Joe Lala (percussion), the original recording was produced by Stills and recorded by Bill Halverson. This historical reissue was produced by Kevin McCormick and Stephen Stills.
As a two-time Rock and Roll Hall of Fame inductee, a member of the Songwriter's Hall of Fame, and a GRAMMY® Award winner, Stephen Stills is one of rock music's most enduring figures. He has influenced generations with his powerful voice, songwriting artistry, and passionate guitar playing, both as a solo artist and as a member of Buffalo Springfield, Crosby, Stills, Nash and Young, and Manassas. With an innovative approach to both acoustic and electric guitar, combined with lush vocal harmonies, Stills helped create the 'California Sound' with his best-known classic compositions, "For What It's Worth," "Love the One You're With," "Helplessly Hoping," "Suite: Judy Blue Eyes," and "Carry On." Stills' first solo album, Stephen Stills, earned a gold record and is the only album to feature both Jimi Hendrix and Eric Clapton and climbed to #3 on the album charts. 
Stephen Stills Live At Berkeley 1971 tracklisting:
Side One
1. Love The One You're With
2. Do For The Others
3. Jesus Gave Love Away For Free
4. You Don't Have To Cry (with David Crosby)
5. The Lee Shore (with David Crosby)
Side Two
1. Word Game
2. Sugar Babe
3. 49 Bye-Byes/For What It's Worth
Side Three
1. Black Queen
2. Know You've Got To Run
3. Bluebird Revisited
4. Lean On Me
Side Four
1. Cherokee
2. Band Introductions
3. Ecology Song