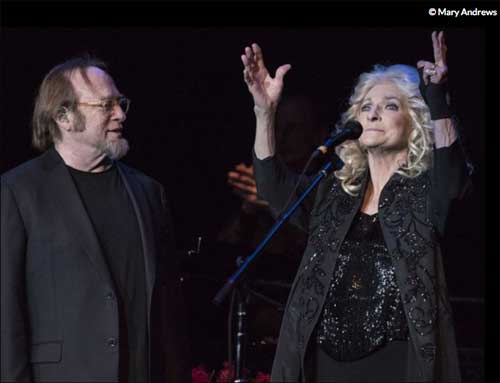 Thu, Jan 25, 18
Stephen Stills and Judy Collins planning to tour together again in 2018
by Anna Weber
Stephen Stills and Judy Collins mounted a lengthy 2017 tour in support of their duets album, Everybody Knows, and now the old friends and collaborators are planning to hit the road together again this year. A note on their joint website reveals that full details about the trek, which will take place in the spring and summer, will be announced soon, but two shows already have been confirmed.
The Stills-Collins concerts are scheduled for June 17 at Tanglewood in Lenox, Massachusetts, and June 24 at the Bergen Performing Arts Center in Englewood, New Jersey. Tickets for the June 17 concert are available now, while the June 24 performance will go on sale this Friday, January 26, at 11 a.m. ET.
As previously reported, Collins also will be performing with Stills at Stephen's fifth annual Light Up the Blues benefit concert on April 21 at the Dolby Theatre in Los Angeles. The show, which raises money for the Autism Speaks charity also will feature Neil Young, Burt Bacharach, Sheryl Crow and Tom Petty & the Heartbreakers members Benmont Tench, Mike Campbell and Steve Ferrone.
Everybody Knows, which was released last September, features new versions of songs with ties to the longtime friends' shared history, as well as select covers and one brand-new tune penned by Collins called "River of Gold." During the late '60s, Stills and Collins were romantically linked, and she was the inspiration behind his Crosby, Stills & Nash classic "Suite: Judy Blue Eyes."
When the tour is announced, the dates will be posted at StephenStillsJudyCollins.com.
Copyright © 2018, ABC Radio. All rights reserved.