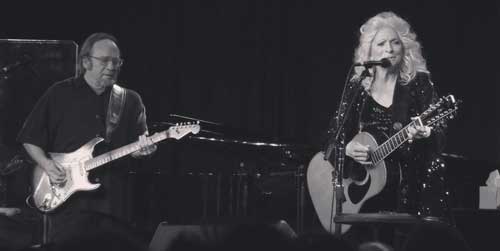 Tue, Nov 07, 17
Judy Collins Recorded a New Version of Her Heartbreaker "Houses" with Stephen Stills
An exclusive look at the first music video from the duo's new album, Everybody Knows.
In 1975, Judy Collins released the album Judith, which would earn her a Grammy nomination and go on to sell over one million copies. And while the standout hit from the album was Collins's iconic cover of Stephen Sondheim's "Send in the Clowns," one of the most enduring fan favorites among the 12 songs was "Houses." Collins sings about the homes of a former flame, cataloging the places he spends time without her.
More than four decades later, Collins is revisiting the song—which has become a standard in her set when she tours—on a new album, Everybody Knows. There's a twist however: this time Collins is playing the song as a duet with Stephen Stills (of Buffalo Springfield and Crosby, Stills, Nash, and Young), the very person about whom she originally wrote the song. Every song on the album (and a current tour) finds the duo collaborating.
"Stephen and I have been friends for years, ever since our affair—almost 50 years ago," Collins tells T&C. "He's said that after we started this tour, and while we were recording the album, that perhaps we should have skipped the romance and went straight to making music together."
"This all came together because we have remained friends. We always talked about doing something like this but never did until now."
Take an exclusive first look at the Ryan Carrión-directed music video for "Houses." And while it's the first video from the album, Collins doesn't rule out the possibility of more—or even of future collaborations with her new bandmate. "I'm a guitar player and singer in a rock 'n' roll band with Stephen Stills," she says. "What could be bad about that?"