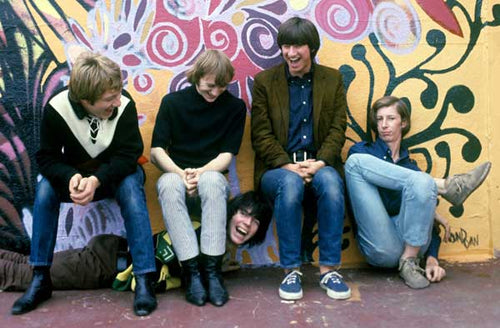 Thu, May 31, 18
Stephen Stills Looks Back at Buffalo Springfield: 'I Have No Regrets'
Ahead of a new remastered collection, Stills reflects on the saga of his original band
Andy Greene – Rolling Stone
The entire Buffalo Springfield saga lasted just a little over 24 months. It began with a chance encounter in early 1966 when Stephen Stills and Richie Furay were driving down the Sunset Strip and happened to see Neil Young and Bruce Palmer driving a hearse headed down the street in the opposite direction. Stills, who briefly met Young the prior year at a Canadian folk club, waved at them to pull over. Within a matter of weeks, they recruited drummer Dewey Martin and were gigging at clubs up and down the Strip as Buffalo Springfield.
By the time of their farewell show at the Sports Arena in Long Beach, California, on May 5th, 1968, they'd recorded three albums, gone through an absurd number of lineup changes and suffered through more drama than bands that lasted decades longer. Neil Young has maintained for years that the group sounded far better in concert than on record, even though they never had the foresight to professionally tape any of the shows. A 2001 box set overseen by Young and Stills attempted to present the band's recorded output in the best possible light, but this year Young and engineer John Hanlon gave it another shot for the new collection What's That Sound? The set contains all three albums with dramatically improved sound (the first two LPs are presented in stereo and mono) and will be available via streaming services and five-LP or five-CD packages. It arrives on June 29th.
"It's the Greatest Buffalo Springfield collection ever," Young wrote on his website. "Remastered from the original analog tapes, it's guaranteed to sound better than any earlier edition of this great and influential music. NYA [Neil Young Archives] was overseeing the remastering process. I have heard it and this is the best it can be! It sounds amazing! If you love Buffalo Springfield, this is the ultimate collection to have."
While on a short break from his co-headlining tour with Judy Collins, Stephen Stills called us up to look back on his time in the band.
What do you think about this new set?
I gotta say that I think they did it when they were free and I was off with Judy the last time. They forgot to to tell me. The first I heard of it was when I got the notice that you were going to interview me last night.
You haven't heard it?
No. I have not. They will have it in my hands shortly. I heard they fought with the first album a lot because, basically, we had four tracks and four knobs. Engineers back then at Gold Star and places like that were very conservative and they wouldn't push the equipment. The Beatles did OK with four tracks and we were trying, but we found our best mixes back then to be the mono. When Neil and [producer/engineer] John Hanlon tried to spread it out they ran into some very strange separations.
Do you think the first album sounds better in mono or stereo?
I'll be able to tell you in a couple of days when I hear it. The thing was, I went up to the rehearsal of the Buffalo Springfield get-together [in 2010] and they were playing the record. I walked in and it was appallingly fast. I couldn't believe it. I said, "I can't listen to that!" Pro Tools has a thing in it where you can feed the record into and slow it down without changing the record a bit, plus it does really wonderful things to the bass. I hope they employed that because songs like "Go and Say Goodbye" and the shuffle called "Leave" got really heavy and Stones-y because that's the way we played it live, but we went into the studio and [drummer] Dewey [Martin] counted everything off and Dewey was from Nashville, so you do the math. [Laughs]
Were you aware of the problems with the record when you were making it?
We were so excited to actually be in a studio that we didn't really notice until the record was on the way out. Then we were like, "Oh, my God, everything is so fast. This doesn't sound like us." It sounded really fast and perky. Neil got his ballads right, but "Mr. Soul" when you take it down a little bit, oh, my God. You hear Bruce [Palmer]'s bass part and it just thunders; it's like Steppenwolf.
Was part of the problem that the record was produced by your two managers and they didn't know what they were doing?
Yes. We had Charles Green and Brian Stone, who basically were hustlers. They kind of got people in the studio and let them do their thing and if it happened to be a hit, they'd take all the a credit even though it was really Sonny Bono. [Green and Stone also managed Sonny & Cher.] They just stood around and made phone calls. It led to such things as Tom Petty cutting the telephone wire in that great documentary. I felt like doing that so many times.
Right, they weren't really producers.
Right. Thank god Ahmet [Ertegun] came in to a session and saw us warming up to do our thing and heard something and he was the first one to spot it. He came back and said, "What happened to that wonderful thing I heard in the studio? Where is it? I hear the same song, but did you get different guys?" It was hilarious and a good lesson, too.
Tell me the main lesson you learned from making the first record.
[Engineer] Bruce Botnick, who Neil found through Jack Nitzsche, taught us all about echo and tuning the chambers. You could make up for a world of stuff with that. It was L.A. in the mid-1960s and everything was perky. They hadn't gotten the heaviness of a laid-back groove like the Stones or even some Beatles stuff, which never really rushed. We were all rushed. The good news is there's an easy fix where you slow everything down five beats per minute. I just covered it. It was an idea that popped into my head and it was amazing. That's why I play "For What It's Worth" slower now and "Mr. Soul" just thunders if you don't count it off too fast.
How different did the band sound in concert than on record?
We were more relaxed and there was people [in the audience] and we found the pocket. Bruce and I would lead us to the pocket. Richie [Furay] is a country guy, so he was automatically a little on top of it. We had a little Keith Richards–Charlie Watts thing where he's a little on top of it and I'm a little behind. That's why it worked so well. My style was something I picked up in Latin America and Bruce just had it the minute we started playing together. It was really tragic that nobody had the foresight to take care of the immigration details. [Palmer, a Canadian citizen, was deported in January of 1967, and even though he eventually returned it hobbled the group at a crucial juncture.] It was very easy. It didn't cost much. You got this cash cow and you've got them out on the road, why don't you go to the State Department and arrange for the H-1 [visa] before everyone got in trouble?
Do you regret that you didn't tape some of the concerts?
Yeah. The best sound we ever got was when we did this stupid TV show where we played just a little bit of a song and we were like, "Oh, my God, that's the sound we've been looking for." [In October 1967, the group played "Bluebird" and "For What It's Worth" on the CBS detective show Mannix.] It was the only place we could get that sound right.
Do you see the band as something that didn't reach its potential?
I never figured that Neil was going to stay there. He was a frontman when I met him, but we got together better than I ever expected. It was very hard. I just so totally understood it. I can't regret it. I have no regrets. It took me a long time to even get close to him lyrically, but there are a few pieces there and we love playing together so much that it's funny. It's just getting a rhythm section that fits our groove. I almost want to go to Mick [Jagger] and say, "Can we borrow Charlie?" [Laughs]
I actually had Bill [Wyman] on a Manassas record. He was actually tired of the travel, really. It was hilarious. We got [bassist] Fuzzy [Calvin Samuels] back into the country, but Bill was already there. He came down and played a couple of things. And then Fuzzy walked in and Bill said, "Am I fired?" in that dry wit that he had. I said, "No, you're already in a band. I'm just lucky enough to have you come and sit in." But there were so many miscues and misinterpretations back then. We were all young and energetic and talking through our asses. I can say something that was totally friendly and somehow by the time it reached the other side of the room, it was immensely cruel. It was probably something I inherited from my sarcastic father.
Do you think if Buffalo Springfield had kept going you could have been a huge commercial force in the Seventies?
We would have maybe slugged it out, but we had a couple of built-in problems that may not have survived. But we were tough. Bruce warned me about Steppenwolf. He told me they were coming to town and he said, "Now this bass player is b-a-d. Wait until you hear them play. You want to hear how much further we can go?" Then they broke into their song and I went, "Holy Toledo!" We were that tough when we were on and Dewey was calm and Richie's guitar was in the right place. We could get there, but we would get too excited or have a bunch of business BS right before the show and we'd go out there and literally run through everything.
But there were nights like at Ondine's New York and the Fillmore ... I actually credit Ralph Gleason for breaking us. He understood exactly what we were trying to do and he nailed it bit-by-bit and was completely unimpressed with the star-star bullshit. He treated me like a musician and Neil like a musician and he heard us for a couple of nights. When Bill [Graham] finally had us up [at the Fillmore in November of 1966], Ralph wrote a half-page article about us in the entertainment section of the Chronicle before Rolling Stone existed. My mom was just over the moon. And so was my sister who was a big jazz freak and so I was because at least someone somewhere understood what I was trying to do.
It's incredible the band lasted just a little over two years.
This is show business. People gather around you like flies and they've all got opinions. I saw this so many times where there were schisms within the posse and the posse would actually break up the group! This one hung out with this one and you had to be really strong and a little insensitive to keep that away from you. In show business all these guys are on the make. It's like TV. In the beginnings when people realize how much money could be made, the strip was crawling with posers. "Oh, I'm a manager!"
How do you feel when you listen to the music now?
When I play it, I don't want to hear it anymore. I want to go hear what it sounds like live. The whole business of learning the song in the studio, by the time I was 30 I learned that was absurd. I was spending hundreds of thousands of dollars making records. Only the Rolling Stones could pull that off. They could just play forever and then find the bit that was great, like "Start Me Up."
That first Buffalo Springfield album, if I remember, there was a lot of vocal harmonizing in the background that was too loud. It was a bit reminiscent of the Turtles. It needed air. When I play them now I leave them as much air as I can possibly manage, but before we learned how to play there was strumming and tapping.
The band reunited for a brief tour in 2011. Might that ever happen again?
I have no idea. I have no idea. Neil has his agenda and I have mine. I'm really enjoying making friends with Judy [Collins] again. She's the best partner I ever had since she's such a good sport and she very gentle and lets me know when I'm getting a little far. The guys [in the band] are such pros; they all read [music] and everything, so when you ask to try something they get it with two run-throughs and it's perfect. It's an incredibly refreshing way to go.
Are you still working on your memoir?
Yes. I am. I'm trying to figure out how to skip and get me ... the circumstances that lead me to California were so myriad. It had to do with the Modern Folk Quartet and [music manager] Herb Cohen, Lenny Bruce and Peter Tork. ... I'm starting out in a linear fashion. It has been good therapy, but the pressure is on. I'm not getting any younger. I really need to get [the story] to New York and get into the whole MFQ [Modern Folk Quartet] situation and the [college vocal group the Augmented Seven of Yale] that took me from New Orleans to New York.
Then my mother won the lottery and so I went back to New Orleans and me and my little sister found out that the Beatles were playing at [San Francisco's] the Cow Palace [on August 31st, 1965] and so we waited for everyone to go to sleep and then it was a 100 miles per house across the western United States. And we made it! I got tickets. They weren't that good, but I got tickets and we went and it was a life-changer. Paul McCartney was on fire that night. He's so much more than anything. He's one of my gods. It took me a long time to get relaxed enough around him to open up and we became quite friendly. He's so gracious that it's disarming sometimes. But tough enough. Boy, nothing will toughen you up like playing in Germany.
But getting back to Buffalo Springfield, I'm glad the music is getting out. Flawed as it is, it's really genuine. There's no posing. There was a lot of ambition and we were really young. We were surrounded by a lot of very ambitious people. I do miss Bruce though, God. He was so wise and such a great player. Also, "For What It's Worth" is still pertinent, shamefully so. I thought it should be forgotten by now. OK, I've about talked myself out to the point where I'm about to step into a cow pie. I'll stop.