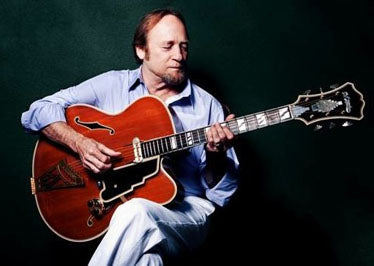 Tue, May 12, 15
Stephen Stills Announces Solo U.S. Tour Dates This Summer
Stills will perform career-spanning favorites as well as new songs
Legendary singer-songwriter, guitarist and two-time Rock and Roll Hall of Famer Stephen Stills will headline a solo tour in the United States in July and August during a break in Crosby, Stills & Nash's 2015 tour. Public on sale tickets will be available beginning Friday, May 15 through www.stephenstills.com.
The tour kicks off on July 6 at The Birchmere in Alexandria, VA, and concludes August 5 with two nights at the Coach House in San Juan Capistrano, CA. This run includes shows in New York City, Charlotte, Nashville, Atlanta, Austin, Dallas and more. The show will feature two sets: one solo acoustic and one full electric band set of career-spanning favorites, including several new songs. Stills will be accompanied by longtime CSN bandmates Kevin McCormick (bass) and Todd Caldwell (organ), with a new addition on drums, Mario Calire.
On April 25th, Stills and his wife Kristen hosted the 3rd Light Up The Blues Concert to benefit Autism Speaks at the Pantages Theatre in Hollywood. The concert was emceed by Jack Black and featured performances by Stills, Neil Young, Shawn Colvin, Steve Earle, The White Buffalo, Chris Stills and three artists with autism. Presenters included Christina Applegate, Gary Cole, Amy Brenneman and Brad Pitt. Proceeds from the sold out concert benefit Autism Speaks' research and advocacy efforts for families and individuals impacted by the disorder. Light Up the Blues, a documentary-style film recorded at 2013's concert to benefit Autism Speaks is available now through iTunes
About STEPHEN STILLS: Stephen Stills is the only artist ever to have been inducted into the Rock and Roll Hall of Fame two times in one night―in 1997, for Buffalo Springfield and Crosby, Stills, and Nash (CSN). One of rock music's most enduring figures, Stills is also a member of the Songwriter's Hall of Fame, a BMI Music Icon (with CSN), and has a career now spanning six decades, multiple solo works, and four hugely influential groups―Manassas and Crosby, Stills, Nash, & Young (CSNY), in addition to Buffalo Springfield and Crosby, Stills & Nash. As renowned for his instrumental virtuosity as for writing era-defining anthems including "For What It's Worth" and "Love The One You're With," Stills is ranked #28 on Rolling Stone's list of the 100 Greatest Guitarists of All Time, calling his acoustic picking on "Suite: Judy Blue Eyes" "a paragon of unplugged beauty." Three of Stills' albums are among Rolling Stone's 500 Greatest Albums of All Time: Buffalo Springfield Again, Crosby, Stills & Nash, and Déjà Vu. In 2013, Stills released Carry On, a four-CD anthology produced by Graham Nash and Joel Bernstein, capturing the remarkable scope of his career using 83 tracks (25 unreleased) to retrace the musical paths he's explored. Most recently, Stills recorded a new record with The Rides, his blues-rock trio with Kenny Wayne Shepherd and Barry Goldberg, to follow up their debut album Can't Get Enough. This year, he is on tour, solo and with Crosby, Stills & Nash.
STEPHEN STILLS U.S. SUMMER TOUR DATES

MON 7/6/15 - Alexandria, VA - The Birchmere
TUE 7/7/15 - New York, NY - City Winery
THU 7/9/15 - Glenside, PA - Keswick Theatre
SAT 7/11/15 - Louisville, KY - Brown Theater
SUN 7/12/15 - Greensboro, NC - Carolina Theatre
TUE 7/14/15 - Charlotte, NC - Neighborhood Theatre
WED 7/15/15 - Richmond, VA - Carpenter Theater
FRI 7/17/15 - Nashville, TN - City Winery
SAT 7/18/15 - Atlanta, GA - Buckhead Theater
TUE 7/21/15 - Tulsa, OK - Brady Theatre
THU 7/23/15 - Austin, TX - Paramount Theatre
FRI 7/24/15 - Dallas, TX - Majestic Theatre
SUN 7/26/15 - Phoenix, AZ - Celebrity Theatre
MON 7/27/15 - Riverside, CA - Fox Performing Arts Center
WED 7/29/15 - Napa, CA - City Winery
THU 7/30/15 - Paso Robles, CA - California Mid-State Fair
SAT 8/1/15 - Solana Beach, CA - Belly Up
SUN 8/2/15 - Solana Beach, CA - Belly Up
TUE 8/4/15 - San Juan Capistrano, CA - Coach House
WED 8/5/15 - San Juan Capistrano, CA - Coach House