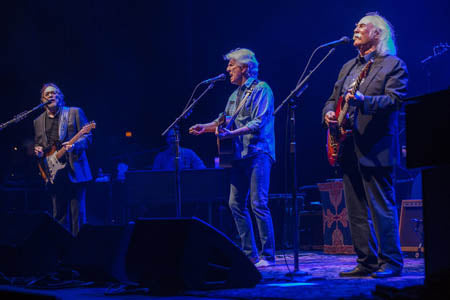 Mon, May 04, 15
Concert Review: Crosby, Stills and Nash still got it at the Riverside Theater
May 4, 2015
Last fall, Neil Young told an audience that Crosby, Stills, Nash and Young "will never tour again, ever," with David Crosby later confirming on Twitter that he and Young had a falling out.
But three out of four ain't bad, especially since David Crosby, Stephen Stills and Graham Nash were the core trio to begin with. So when tickets for Crosby, Stills and Nash's concert at the Riverside Theater Sunday first went on sale, they were gone within the weekend.
That's despite the fact that CSN hasn't had an original studio album in 21 years (there was one with Young, but that was still back in 1999). Not that that seemed to matter. From a Stills-led blues-colored rendition of Buffalo Springfield's "For What It's Worth," to Nash, the most festive of the three, regaling the audience with a story about tripping on acid at Stonehenge in the '70s (which inspired the opus "Cathedral"), the show frequently served up nostalgia, and was celebrated for doing so. . .