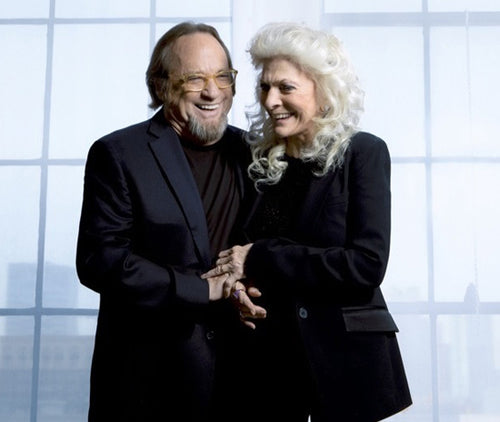 Sat, Jan 27, 18
Interview: Stephen Stills and Judy Collins
Relix - Mike Greenhaus
The elegant, Art Deco-style Carlyle Hotel is located on 76 Street and Madison Avenue, in the heart of New York's Upper East Side. Though its address and facade feel worlds away from the folky, Greenwich Village scene that originally drew Judy Collins to Manhattan in the 1960s, these days the hotel seems like one of the last vestiges of late-20th-century New York. Collins—who lives across from Central Park with her husband, artist Louis Nelson, and also keeps a place outside the city—has turned the Carlyle into something of her public living room in recent years, thanks to her multi-night runs at the lobby café. The space even served as the backdrop for the now 78-year-old singer's 2013 appearance on HBO's Girls, helping her voice reach a whole new generation. 
Today, however, she's camped out a few floors up the attendant-operated elevator in a stunning suite, where she's congregated with her onetime romantic partner and muse Stephen Stills to chat about their joint LP, Everybody Knows, over tea and coffee. They're also nearing a pause during their first tour together and, while the music and stories have been career-affirming, Stills says life on the road is reminding him of his age. "I have a hearing problem that precedes music, from when I was 9," the 72-year-old Stills says after he settles into an armchair. "Gov. Huey P. Long built the system where his doctor friend had an Airstream with a doctor's office, and they visited every school in every parish in the state of Louisiana, and gave every child a physical. That's when I discovered my hearing loss and they said that, depending on what you do with your life, it'll get worse over time. I might've gotten an infection from swimming in the bayous or killed a mosquito inside my ear—any number of things could've caused it, but nonetheless the damage was done." 
"But look what he's been able to do!" Collins chimes in from across the coffee table, her voice hitting a pure, natural frequency usually reserved for a proud parent. 
Stills has been part of Collins' life ever since they met at a Cream show at Los Angeles' Whisky A Go Go 1967, yet Everybody Knows is the first full-length release under both of their names. A family scrapbook mix of well-curated covers, reworked originals and even a new Collins composition, the album and its accompanying tour have given the lifelong friends the rare chance to present their relationship in song-cycle form. 
"It's very intriguing—we've been together for so long, it's almost like being in family counseling," Collins says with a laugh. "We have an internal dialogue going on with the music between 'Suite: Judy Blue Eyes' and 'Judy,' both of which Stephen wrote years ago, and my song for Stephen, 'Houses.'" 
Stills, who has devoted most of his onstage attention to his bluesy supergroup The Rides since Crosby, Stills & Nash unraveled in the press last year, simply seems to enjoy spending time with his old friend and flame. 
"When it gets too close to couples therapy, I throw in a wisecrack that'll break that up right away," he says with a hearty chuckle. "This whole transparency thing has gone too far. I'm tired—I was raised in the age of discretion. There are some things that are just unbecoming to speak of." 
At this point, your lives have been intertwined for almost half a century. Did you feel an instantaneous spark at your initial meeting? 
Judy Collins: We started spending time together when he came to play on Who Knows Where the Time Goes? in 1968—it was a great band, including Van Dyke Parks, Chris Ethridge, Buddy Emmons, James Burton and Stephen. Stephen had just dismantled Buffalo Springfield and he was brilliant. I flipped out over him, and that's where it all started. We had a wild career. 
Stephen Stills: We were going to do The Tonight Show With Johnny Carson, and Neil [Young] realized he was going to get his big nationwide break with the band, and he got cold feet and decided to go out on his own. He wanted to anyway. I understood, but it also completely screwed us over because I didn't have the group together for the Monterey Pop Festival. 
JC: And there he was, free for the summer. Of course, we had an a air. As short lived as it was, it was very important in both of our lives, and he wrote the song "Suite: Judy Blue Eyes." We've never lost touch with one another. 
SS: I did all kinds of little conniving things to be near her. I got myself assigned to take the back-cover photo of Judy's family for the album. I said, "I'm a photographer!" That meant I had a Nikon. So I went up and took the pictures on the porch of the whole gang, and I underexposed them. And [people] were furious with me, but totally understood—it was about the girl. It's a little dark but you can see everybody, and the focus was brilliant. 
It's rare for well-known artists, who were never in a band together, to have such a lengthy and consistent snapshot of their 50-year friendship. 
JC: It's our musical selfie—a picture of where we've been since we were suddenly integrated into each other's lives and where we are now. Yes, it was a love affair, but it was also a historic interplay of our interests. It's amazing that we've remained friends all these years. In the early part of 1969, I decided to put out a songbook of my previous albums, and he said to me, "Why don't you write about your family?" He was already writing "Suite: Judy Blue Eyes," which I didn't know yet, and he already knew what an interesting, fiction-worthy family it was. 
SS: Both of our families! We put the fun back in "dysfunctional." [Laughs.] There's a fine line between dysfunctional and interesting. 
JC: That's right! So, I came out to California and we got a suite at the Beverly Hills Hotel. I would be in the room during the daytime writing my seven chapters, while he was recording with Crosby, Stills & Nash. So he got me started writing a memoir. This latest one is my ninth or tenth book. Our lives are just so enmeshed with one another's. His sister did some beautiful watercolor prints for my songbook. One is in my studio in New York, and the other is in my living room. When we broke up, it was more like a family disaster than a breakup.
SS: It wasn't a breakup; it was, "We should marry other people!" 
How would you describe your relationship after your love affair ended?
JC: We always stayed in touch with each other. There would be a critical time when I needed to talk to somebody that I could trust. When I got sober in 1978, I came back to New York and called him. I was going to go down to Florida and see him. I was in the kitchen and I remember him saying, "You can't come. You're not going to be able to stay sober here. It's a wild thing that's going on..." 
SS: It was the whole studio— not just us. The place was crazy. I'd have good days, where I'd get there early and get a lot done, and then it would deteriorate into bedlam and there would be bad days. But she was trying to stop. This was not the place to come. 
JC: So, he saved my life. 
SS: I put my foot down about it. I said it in a tone that I hoped conveyed the seriousness.
JC: Oh, I heard you. 
SS: I wasn't angry or anything. It was just, "You shouldn't come here." 
Though your offstage friendship remained strong, you've never collectively released an album under both of your names. What finally got you into the studio for Everybody Knows?
SS: There was a time when CSN was obviously just tired—we'd had it for a while. So that was when she came in and said, "We've got to do this now." 
JC: I've been on the road by myself for decades, and I've loved every minute of it. But it seemed like time for us [to tour together], and we had to make a record so we'd have something to sell. He came to New York in 1969 and played with me at Carnegie Hall, and we did a duet on an old Tom Paxton song five or six years ago on an album of mine called Paradise. We once were on Graham Nash's TV show and Stephen played guitar for me on that. Otherwise, except for one event where we sat on the stage and told stories, we've never done something like this, so it's a big deal for us. We texted one another with lists of songs and met in New York and LA to have dinner and talk about it, and finally, it seemed to be time. 
SS: We'd have a three-hour rehearsal once a month for about three months. I went, "This is crazy. We're not ready." And sure enough, we had a live recording of the opening song, for instance, and it kills what we have on the record. [Laughs.] We finally got the phrasing really tight. And [Judy's longtime musical director Russell Walden] also has an instantaneous appreciation for the fact that my lead guitar is one of the voices and how that should be placed. He really paid attention to what I played, which was a new experience for me. [Laughs.] 
Though, my hearing aids pick up the cymbals a lot more than anything else. They told me that my hearing would be bad at this age, but they also told me that they would have remarkably better hearing aids. And there's $6,000 worth of stuff in my ears! What the fuck? I've had to fuss at people to adjust just a little bit. At cocktail parties I'm useless or, in a restaurant, I can hear the busboys clatter and everyone else around me, but I can't hear the person across from me. [The white noise] is like a flock of geese. 
I'm sure you both had your own expectations going into these sessions. What impact did the recording process and resulting tour have on you personally and creatively? 
SS: She reminded me how to say "yes" because she said "yes" to everything, and it makes it so much easier. And she taught me not to project all of the things that could go wrong, and say, "Let's not do that. We'll fuck that up." We can be really bad for a few days, but we shouldn't worry about it. That's the secret of getting an ensemble together. I've been able to play much softer then I have been for years, without Crosby's "hell rig of the Pacific."
JC: When we started recording, Stephen said, "We should have skipped the romance and gone straight to this." [With this band], I knew I'd be protected, which is always my ultimate concern. I could lose my mind thinking about the mistakes we could make, but I had no anxieties or feelings about this—it all fell into place. 
One of the ancillary benefits of this is drawing our audiences together. We have audiences where people mostly listen to CSN and audiences that are coming mostly for me. And the ages are getting wider and wider. We'll get people our age, and then younger and older. And that's a marvelous concoction that's come out of this. That's part of the pleasure of being introduced to one another's music.
SS: Some younger people come to hear my guitar playing and also the young folkies want to hear the old folk songs—we're old masters of that. Your songs feel particularly relevant given the current political climate.
JC: That's right. Trump is trying to change it back [to a bygone era] but we'll get him. When is the mental-health community going to catch up with this guy? 
Was there a moment where you realized your creative chemistry was still there?
SS: "So Begins the Task"—that's when we found out we could sing in such lovely unison together. It's very hard to do. It comes naturally or it doesn't, and we sound perfect together. 
JC: He wrote it in '71. I recorded it and he recorded it, and now we're recording it together. It's a wonderful journey to get to that point. Around July of 1968, I went home in Los Angeles and he stayed in the studio. He recorded "So Begins the Task," "Suite: Judy Blue Eyes," "Helplessly Hoping" and "Wooden Ships." It's a famous tape because it was lost for years. Somebody found it and sent it to Graham Nash, and it's been released as Just Roll Tape. In a way, it captured, in the moment, the songs he was writing about me and the songs that he would sing in the coming months with Crosby, Stills & Nash. 
Judy, "River of Gold" is your new original on the record. What about that song lent itself to these sessions with Stephen? 
JC: I've been on a big songwriting kick ever since I recorded an album with Ari Hest, Silver Skies Blue, which was nominated for a Grammy. I wrote "River of Gold" during my last two months of writing and I played it for Stephen just to see what he thought, and he said we've got to record this. It's the Colorado experience.
SS: She introduced me to Colorado and, except for skiing and what it did to my knees, I loved it! And coming from Florida, you get off  the plane and there's air conditioning outside. [Laughs.] And the higher you get, the better it gets. I lived up there for a long time. It's the same treasure map mentality that we found in Florida—those guys that would have no foresight and pave over paradise and put up a parking lot. The same thing was going on in Colorado. It was just starting when I moved there. All of these wonderful little gold mining towns were getting reoccupied and dressed up, having little bed-and-breakfast destinations turned into... 
JC: ...the "mall in the mountains." 
In addition to these "selfies" that track your friendship, you've also included a range of covers. How did you select those songs? 
JC: We spent some time writing back and forth to each other for a couple years. We'd put down lists of songs so, out of that came the core idea of what we might want to put together. I started singing Leonard Cohen's "Everybody Knows" in concert after his death last year, and I brought it to Stephen. He said, "We have got to do that." I am still completely mesmerized with his talent. I think he's a genius and his guitar playing is beyond. 
SS: [About six years ago], we started this Tom Paxton song, and I was in the middle of a very busy week in New York. But I went over to her house anyway because something told me this was important to do. The chorus on this Tom Paxton song was right in my power range. And it just soared. I did it on her 12-string and sang the tune, and she laid down her part later. But we realized, "Yes, all of those tools are still there." And so it was just a matter of time before the songs appeared. Either we wrote them or the genre just fit; we didn't care either way, especially now that nobody pays for publishing rights anyway. Swine—all because [Napster's] Sean Parker got mad because the bass player stole his girlfriend. [Laughs.] 
JC: We had to do "Judy Blue Eyes," of course, and when we play it now, Stephen, quite smartly, starts at the chorus leading through to the end, rather than from the first verse. So everybody winds up happy, on their feet and dancing. And we start the album and our show with the Traveling Wilburys song ["Handle With Care"]. 
You had the unique opportunity to revisit some of your original material decades later. Did you ever consider altering your lyrics to t in with the state of our country? 
SS: Those are temptations that you have, but then you realize it hasn't really moved that far off. Bob Weir has this idea for "For What It's Worth," and I'm intrigued to find out about it. He wants me to schlep all the way back to New York City to go play with Dead & Company at Madison Square Garden, right after we finish! I want to be done tomorrow, as it is. I'm beat—this one will walk us all into the grave. [Laughs.] 
JC: I'm having you sing most of that song—you need to have the last phrase on your own. I would only sing the chorus with you on "For What It's Worth."
SS: It took years to get the rock-and-roll world to figure out that the best version of these songs is not the first time you get it right in the studio. I'm not that kind of writer. I like to have it seasoned a little bit with some audience reaction to hear what the best lines are so we don't get sidetracked with books and minutiae, and then find out it's the other line that they sing along to. Mastery is what we all strive for. We never achieve it, but it's worth shooting for.