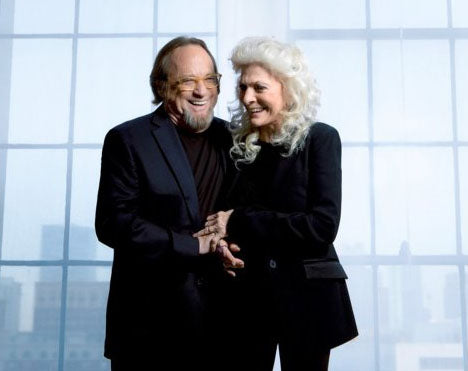 Wed, Aug 09, 17
Judy Collins talks touring with Stephen Stills, friendship with Leonard Cohen
BY MELISSA RUGGIERI/AJC Music Scene
It's a 50-year friendship that is finally taking a public bow.
The late-'60s romance between Stephen Stills and Judy Collins is immortalized in Crosby, Stills & Nash lore (and discography) in "Suite: Judy Blue Eyes."
The romance didn't last beyond that infectious valentine, but Collins, 78, and Stills, 72, never broke ties and now, the folk icons are sharing the stage on their first-ever joint tour.
The live outing, which plays Atlanta Symphony Hall on Wednesday, is a preview of their collaborative album, "Everybody Knows," which arrives Sept. 22.
The title is a tribute to Collins' late friend, Leonard Cohen, whose career she helped jump-start in the '60s by putting his "Suzanne" on her hit album, "In My Life." Recording Cohen's songs is hardly a novelty for Collins — in 2004, she released the album "Judy Collins Sings Leonard Cohen: Democracy" — but the bittersweet version of "Everybody Knows" on the release with Stills is the first she's covered Cohen's material since his November death.
Chatting from Chicago recently with The Atlanta Journal-Constitution and The River (97.1 FM), Collins explained the format of the concert, and delved into her lifelong relationships with Stills and Cohen.
The pair will release the album, "Everybody Knows," in September.
About the setup of the show:
"Mostly the set is us together, and then we'll take solo breaks back to back. The first break comes after 'Everybody Knows,' about seven songs into the set, and then I'll do 'Both Sides Now' and 'Suzanne' and (Stephen will) come out and do a surprise, I'm sure. We have a wonderful trio with us — percussion and bass and a pianist/keyboardist. There are five of us together onstage, which is very manageable. They're people I've worked with forever."
On the 50th anniversary of knowing Stills:
"We maintained a friendship, which I think is very rare. We've always been friends, hung out with each other's spouses, and we've talked and made a lot of lists together of songs we would do if we ever worked together. We had a kind of idea of what we'd like to do even from the beginning. When we first started out, we should have skipped the romance and gone straight to this, but then he wouldn't have written 'Suite: Judy Blue Eyes.'… I'm singing a song I wrote about him called 'Houses.' I wrote it in 1970. I think that for both of us on some level, it was heartbreaking. It was a difficult relationship and I don't think it had a chance at that time — we both had to get off and do our own thing. If you're married to someone in the same field and you're both hungry and ambitious and bossy, it's difficult to manage that in the same room. I don't think it was meant that we had a continual romance, but it was always a very intense musical friendship and relationship; I was always wild about CSN and Stephen and I still am today — how about that?"
On covering the late Leonard Cohen's "Everybody Knows":
"He was such a great influence on me and such a great contributor to my success, I think. He always says I made him famous, and if he says it, I suppose it's true. In 1966, he came to see me; he was a very calculating man and he figured out that I was the one who would listen. He wanted people to sing his songs. Most of the people he and I knew around (Greenwich) Village were recording their own songs. I was right there and recorded songs by many artists. I was going into my fifth album, and two of his first songs made it onto that album, and from then on, we were bonded at the hip. I started singing 'Everybody Knows' three days after his death (last year); I'd never sung it before. Stephen and I knew we were going to be going into this material-choosing phase, and I sent it to him on the phone and he said, 'We've got to do it.'"
On plans after this tour:
"I have a new book out called 'Cravings,' and will be doing speaking engagements on that. (The CD) 'A Love Letter to Stephen Sondheim' (is out), and I'll be going to Joe's Pub for a few dates (in New York in November), and we'll probably do a short run with that."
And speaking of Sondheim:
"I've taken about 25 years to figure out which songs I wanted to sing — he can be very challenging. I got together about 20 songs that I was passionate about. … He certainly changed Broadway. In my (solo) shows, we do a couple of Sondheim songs, but not on this tour. I won't go near Sondheim (laughs)."
For ticket information, visit the Tour page.