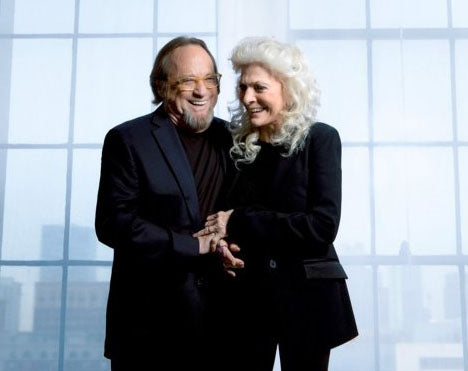 Wed, Aug 16, 17
Stephen Stills & Judy Collins Premiere 'Judy' From Joint Album 'Everybody Knows': Exclusive
The one-time couple (he wrote 'Suite: Judy Blue Eyes' about her in 1969) are back together for a musical endeavor.
Between songs like "Suite: Judy Blue Eyes" and the newly released "Judy" -- premiering exclusively below -- Judy Collins has been the subject of some heady musical emotions from former paramour Stephen Stills. And she has no problem with that.
"Oh, it's just delicious," Collins tells Billboard with a laugh. "We always were friends. We didn't ever hate each other. We had a kind of, I would say, dramatic love affair, lots of positive and then a lot of upset because it wasn't working out. And then, of course 'Suite: Judy Blue Eyes" came along and, I mean, how can you resist when you hear that song all over the country?!"
"Judy," originally released in demo form on Stills' Just Roll Tape collection," is part of Everybody Knows, the veteran singer-songwriters' first joint album, due out Sept. 22. The set includes a variety of covers -- of each other's material (Stills' "Questions" and "So Begins The Task," Collins' "Houses" and "Who Knows Where The Time Goes") as well as songs by Bob Dylan ("Girl From The North Country"), Leonard Cohen ("Everybody Knows") and the Traveling Wilburys ("Handle With Care") -- along with a new Collins composition, "River Of Gold."
"It's got the markings of something that was bound to happen, and by some miracle both of us are still on the planet and feeling very healthy and positive," Collins says. The idea for the project dates back nearly a decade, and the recent Crosby, Stills & Nash hiatus provided an opening for Stills to move forward in earnest. "I think a lot of people see this as a reunited romance, which in a way it is because it's certainly a romantic musical romance because we've always liked each other's work, and then we've also had a lot to say with each other," Collins says. "When we started rehearsing for the record (Stills) said, 'Y'know, we should've done this from the first and sort of skipped the romance.' And I said, 'Yeah, but then you wouldn't have written 'Suite: Judy Blue Eyes,' probably."
The album project led to a concert tour that has dates booked into November. Collins is hoping the duo becomes a going concern, though she has a number of other projects on her plate -- a second album with singer-songwriter Ari Hest as well as a solo album, an album of Stephen Sondheim songs called Love Letter To Stephen Sondheim and a book, Cravings, about eating disorders and diets.
"I think we're up for it," Collins says of doing more with Stills. "I think now that it's established and we both have ideas of things that we want to do musically, it's just a matter of how we get around the world. There's a lot of dates that we won't be able to fit in on this trip; Lots of people want us, so it's possible we might be able to go forward in some way or another. Right now the main thing is to focus on this tour and get it right. It's progress and not perfection, as they say."
For tour and ticket information, visit the Tour page.