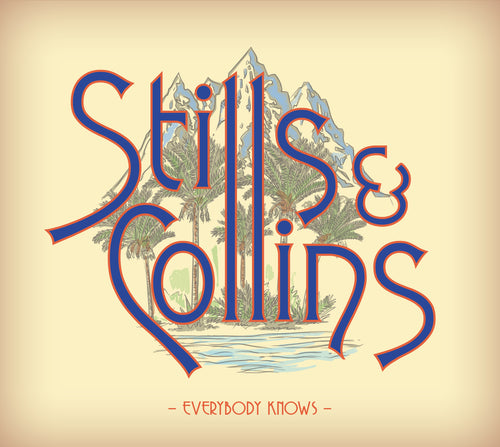 Tue, Jun 20, 17
Stephen Stills And Judy Collins Celebrate 50 Years Of Musical Friendship With First-ever Album Together - 'Stills & Collins' Out September 22 (Wildflower/Cleopatra)
'Stills & Collins' Tour Begins July 26 And Will Run Through 2017
Judy Collins and Stephen Stills first met in 1967 and quickly fell into a tumultuous love affair that would be immortalized in Stephen's song "Suite: Judy Blue Eyes." Out September 22 on Wildflower / Cleopatra Records, 'Stills & Collins' marks the first album the two icons and longtime friends have recorded together. The loving, playful and emotional album finds Judy and Stephen performing refreshed versions of songs that tie their whimsical 50-year history together, plus a brand new song penned by Judy for this album, and a refined take by both artists on classics by Bob Dylan, Leonard Cohen, Traveling Wilburys and more. Judy and Stephen have announced their first-ever tour together as well, which begins July 26 outside of Chicago and continues into November.
'Stills & Collins' is bursting with songs that illustrate a rich history between the two legends. "Who Knows Where The Time Goes," from Judy's 1968 album of the same name, was the first song Judy and Stephen ever recorded together. Stills first recorded "Judy" in a demo session immediately following Judy's 'Who Knows Where The Time Goes' session, in the very same studio. This demo tape was lost for years and later issued as the 'Just Roll Tape' album. "So Begins The Task" is another Stills original that also appears on the 'Just Roll Tape' demo. The song was later recorded for Stills' Manassas debut, and for 'CSN 2012.' Judy recorded "So Begins The Task" as well, for 1973's 'True Stories and Other Dreams.' She wrote "Houses" about her relationship with Stephen, a standout track from her landmark release, 1975's Platinum-selling 'Judith.'
The album also features duets over classic songs such as Bob Dylan's "Girl From The North Country." Judy, known for her early interpretations of Leonard Cohen's work, selected "Everybody Knows" for this album - her first time recording it. Stephen and Judy sing over a soaring version of Traveling Wilburys' "Handle With Care." The song "Questions" was written by Stills and recorded for Buffalo Springfield's 'Last Time Around,' and later revisited on the second section of "Carry On," from Crosby, Stills, Nash and Young's 'Déjà Vu.'
And finally - Judy penned a brand new song for this album, "River Of Gold." 'Stills & Collins' was recorded at West Lake Studios in West Hollywood, and was produced by Stephen Stills, Judy Collins, Marvin Etzioni and Alan Silverman. It features Russell Walden on piano, Kevin McCormick on bass, and Tony Beard on drums.
'Stills & Collins' will be released on the heels of a very busy period for Collins, who released an album in 2015 and 2016. 2015's 'Strangers Again' earned Judy her highest Billboard 200 debut in almost 30 years, and 2016's 'Silver Skies Blue' duets album with Ari Hest earned a GRAMMY nomination for Best Folk Album. She's recently been described by the NY Times as the "ageless wild angel of pop," appeared in HBO's Girls, and released the book 'Cravings: How I Conquered Food' earlier this year.
Stills is known for his work with Buffalo Springfield, Crosby, Stills & Nash, and his solo work. In addition to "Suite: Judy Blue Eyes," Still is best known for the hits " For What It's Worth" by Buffalo Springfield and "Love The One You're With" from his solo debut, Stephen Stills. He's a multi-instrumentalist, composer, and ranked #28 in Rolling Stone Magazine's "The 100 Greatest Guitarists Of All Time." He also has the added distinction of being the first artist to be inducted into the Rock N' Roll Hall of Fame twice in one night (for his work with CSN and Buffalo Springfield).
Pre-order the album via Pledge Music: http://pmusic.co/30qN1m
TOUR DATES:
July 26 - Highland Park, IL @ Ravinia Pavilion
July 28 - Cleveland Heights, OH @ Cain Park
July 30 - Overland Park, KS @ JCCC Carlsen Center
August 1 - Denver, CO @ Denver Botanic Gardens at York Street
August 2 - Arvada, CO @ Arvada Center For The Arts & Humanities
August 3 - Steamboat Springs, CO @ Strings Music Festival
August 5 - Salina, KS @ Stiefel Theatre
August 7 - Meridian, MS @ Riley Center for the Performing Arts
August 9 - Atlanta, GA @ Atlanta Symphony Hall
August 11 - Alexandria, VA @ Birchmere
August 12 - Alexandria, VA @ Birchmere
August 14 - Ridgefield, CT @ Ridgefield Playhouse
August 16 - Red Bank, NJ @ Count Baise Theatre
August 17 - New Haven, CT @ College Street Music Hall
August 18 - Greensburg, PA @ Palace Theatre
August 20 - Lowell, MA @ Boarding House Park
August 21 - Great Barrington, MA @ Mahaiwe Performing Arts Center
August 23 - Morristown, NJ @ Mayo Performing Arts Center
August 25 - Glenside, PA @ Keswick Theatre
August 26 - Westbury, NY @ NYCB Theatre at Westbury
August 28 - Vestal, NY @ Anderson Center for the Performing Arts
September 1 - Beverly Hills, CA @ Saban Theatre
September 3 - Indio, CA @ Fantasy Springs Resort & Casino
September 6 - San Diego, CA @ Humphrey's Concerts by the Bay
September 8 - Jacksonville, OR @ Britt Pavilion
September 9 - Stateline, NV @ MontBleu Resort Casino & Spa
September 30 - Torrington, CT @ Warner Theater
October 1 - Newport News, VA @ Ferguson Performing Arts Center
October 2 - Huntington, WV @ Keith Albee Performing Arts Center
October 4 - Morgantown, WV @ West Virginia University
October 5 - Charlottesville, VA @ Sprint Pavilion 
October 7 - Cranston, RI @ Rhode Island Center for the Performing Arts
October 8 - Albany, NY @ The Egg Center
October 11 - Lancaster, PA @ American Music Theater
October 12 - Tarrytown, NY @ Tarrytown Music Hall
October 13 - Englewood, NJ @ Bergen Performing Arts Center
October 17 - Godfrey, IL @ Olin Theater
October 21 - Las Vegas, NV @ Smith Center
October 22 - Tucson, AZ @ Fox Theater
October 25 - San Juan Capistrano, CA @ The Coach House
October 26 - San Juan Capistrano, CA @ The Coach House
October 28 - Santa Barbara, CA @ Arlington Theater
November 2 - Visalia, CA @ Fox Theater
November 4 - Brooks, CA @ Cacher Creek Casino
For ticket information, visit the Tour page.