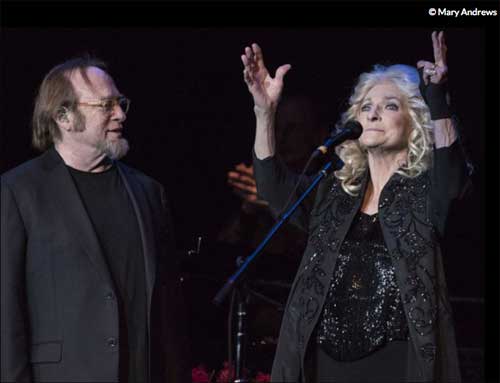 Wed, Oct 25, 17
Stephen Stills and Judy Collins have many stories to tell - AXS
Stephen Stills and Judy Collins decided to celebrate their 50-year relationship by recording an album and performing on an extensive tour. Stills mentioned during the show that the secret to the longevity of their relationship is that they never married each other. They married other people instead. The tour is the first time they have ever performed on stage together. They performed a fun, nostalgic show at the Fox Theatre Foundation's annual gala fundraiser on Oct. 21.
Both performers were very congenial throughout the 90-minute set. It was obvious that they were enjoying the show as much at the fans. There were a lot of laughs shared between the two performers. They botched up the beginning of "So Begins the Task." Stephen stopped the song and said, "We are only going to be here once. So, let's get it right." They started the song over. It was surprising how great their harmonies were together. Collins' voice seemed to be untouched by time. Stills' vocals had a raspy quality that has become more exaggerated. They complimented each other perfectly.
Both Collins and Stills spoke about how they met. Collins said, "We met in 1968. Stephen's memory is right on target. He can tell you exactly how we met." Stills said, "We met at the Whisky a Go Go. Eric Clapton was there with his new band, Cream, on stage. I was introduced to Judy Collins. I was ready for my older woman experience." Later in the same week, Stills was brought to her recording session.
Collins introduced the song, "Everybody Knows," with a narrative of how she met the songwriter. "Two years before Stephen and I met, I was living in a vat of singers and songwriters. It was overflowing with singer-songwriter before I started writing songs. This was during the music revolution in the 1960s. A friend from Canada who always talked about a poet she knew. She swore that 'unfortunately he would never go anywhere. He's a poet and so obscure.' One day, she came to me and said, 'he wants to meet you because you don't write your own songs. He wants to play his songs for you.' Later, Leonard Cohen showed up at her door. He said, 'I just want to tell you that I can't sing. I can't play guitar. And I don't know if this is a song.' He then played "Suzanne." He died last year. Stephen and I were talking about him and we realized that he was probably the smartest man we knew. He died on the morning of the election."
Stills introduced "Girl From the North Country" when he spoke of his parents moving the family to Costa Rica when he was a senior in high school. "There is absolutely nothing for a kid to do. There was no TV. We barely got a few records. You couldn't get American radio stations. I sat in the bathroom at night after I had done my homework and played guitar. There was great echo with the tile in there. You could hear yourself and you sounded great like you were playing on a record. One day my sister came stomping in and put down a record and said 'if you are going to keep me up all night playing and if you're going to write songs, then listen to this guy because he knows how to write great songs. He really knows what he's doing. Listen to that third song. If your not going to do that, then shut up and let me sleep.' Everyone that talks like that is usually right, at least in their mind. She actually turned out to be my best muse. The album that she gave me was from a fellow from Northern Minnesota named Bob. She was quite right and I learned how to write songs."
This awesome show was filled with many personal insights of these living legends as well as their classic music. The encore ended with an abbreviated version of "Suite: Judy Blue Eyes." This was a special show for a very worthy cause of keeping the doors to a wonderful concert venue open.