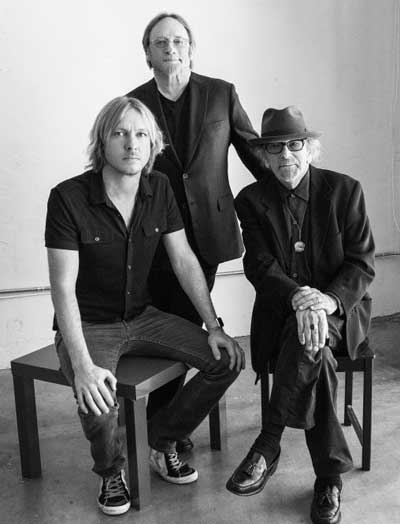 Wed, May 18, 16
Enjoying The Rides: Stephen Stills, Kenny Wayne Shepherd Talk New Album, Band Chemistry | Rock 107
The Rides, the blues-rock outfit Stephen Stills formed a few years back with Kenny Wayne Shepherd and Electric Flag keyboardist Barry Goldberg, recently released their second album, Pierced Arrow. Eight of the 10 tracks on the latest album are new tunes co-written by the group.
Shepherd tells ABC Radio about the band's dynamics while putting together the new record."Everybody filled the gaps and their roles nicely and were very fluid," he says. "So, one minute one guy can be contributing more to the music and another guy more to the lyrics and then the next minute that can change…It's a pretty seamless and comfortable process with us." That process certainly came into play when Stills brought in an unfinished song called "Kick Out of It." It became Pierced Arrow's rocking lead track.
"It was something from the '80s and I never got David [Crosby] or Graham [Nash] to really like it, 'cause it's more of a Stones-y thing," Stephen reveals to ABC Radio. "And I must have eight sets of lyrics, and so I just kept feeding lines and the guys in the room would say, 'That one!'"
Stills says the most topical song on Pierced Arrow is "Game On," which was partly inspired by the racial tensions that flared up after the 2014 shooting death of an unarmed black teenager by a police officer in Ferguson, Missouri. Stephen maintains that racial inequality in the U.S. has "been a frustration of mine all my life, really, because growing up in the South everything useful that I learned, I learned from black people." Another notable original song on the album is "Virtual World," through which Stills expresses his irritation over people's dwindling attention spans thanks to modern technology.
The one full-on cover on Pierced Arrow is a Shepherd-sung rendition of Willie Dixon's classic blues tune "My Babe" that Stills says is the best version he's ever heard.
The Rides' current trek runs through a June 5 show in Riverside, California, although Shepherd tells ABC Radio the band is lining up another tour leg for later in the year. Kenny Wayne says he hopes that by that time, The Rides also will start discussing making album number three.
Here are the remaining dates on The Rides' tour: 5/17 — Boston, MA, Wilbur Theater
5/18 — Providence, RI, Lupo's
5/21 — Los Angeles, CA, Hollywood Pantages Theatre
6/1 — San Diego, CA, Balboa Theater
6/2 — Berkeley, CA, UC Theatre
6/4 — Scottsdale, AZ, Talking Stick Resort
6/5 — Riverside, CA, Fox PAC
Copyright © 2016, ABC Radio. All rights reserved.