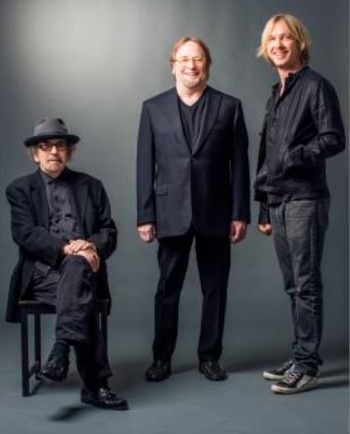 Fri, Apr 07, 17
With a lineup like this, why aren't The Rides a bigger deal?
Consider the lineup:
Guitarist/singer Stephen Stills is a two-time Rock and Roll Hall of Famer, once for his work with Buffalo Springfield and again for Crosby, Stills and Nash.
The other guitarist/singer, Kenny Wayne Shepherd, put out eight albums, was nominated for five Grammys and played with everyone from Willie Nelson to Kid Rock.
Keyboardist Barry Goldberg was in the band when Bob Dylan played his famed electric set at the Newport Jazz Festival in 1965, plays the keyboards on Mitch Ryder's "Devil With a Blue Dress" and was a founder of seminal Chicago blues band the Electric Flag.
Drummer Chris Layton is a Rock and Roll Hall of Famer as a member of Stevie Ray Vaughan and Double Trouble.
Bass player Kevin McCormick has played with Melissa Etheridge, Don Henley, Jackson Browne and John Mayall and co-produced The Rides' last album, "Pierced Arrow."
So with that kind of firepower, why isn't the band more widely known? Shepherd, speaking by phone the morning after a show at Nashville's famed Ryman Auditorium, said in today's music business, it's tough to gain a foothold.
"First of all, we've only had two records," he said. "And the kind of music that we do, blues-based American music, there's not a big radio market for that. Radio is a completely different world now than it was when Stephen first started making records, or even when I started making records. It's a little bit of a different experience nowadays trying to launch a new band, even when you've got superstars in the band."
The decision to name the band The Rides, rather than something like Stills, Shepherd &Goldberg, may have also contributed, he said.
"Stephen didn't want to do another band with the members' names, like Crosby, Stills &Nash, so we named it The Rides. But I think people have to be educated about who The Rides are."
There's no friction between the guitar players, Shepherd said. "I think we both kind of inspire each other in different ways. I think he's picking up things from me, I'm certainly picking up things from him. That's the sign of a healthy musical relationship — any kind of relationship, really."
The Rides came about around 2012, when Stills wanted to do a blues record and his manager hooked him up with Goldberg (the two had played together in 1968 on the "Super Session" album). "They got together and started writing songs and at some point I guess they decided they wanted a third component and my name came up," Shepherd said.
Shepherd, who built his reputation as a blues-rock gunslinger, seems an odd choice, given that he's more than 30 years younger than Stills and Goldberg. In fact, "CSN," the Crosby, Stills &Nash album that included the hit "Just a Song Before I Go," was released just five days after Shepherd was born.
But he and Stills had played together at an awards show and there was some chemistry there.
The Rides weren't necessarily built to last, he said.
"Originally, everyone thought it would be a one-off experiment, just throw these guys together and see what happens, but we really, really enjoy working together and we have a lot of fun so we decided to make it a band," he said. "It seems to be the real deal."
The band hooks up with Buddy Guy for a handful of dates in Florida and Texas. Beyond that, it's hard to say. "I think that as long as Stephen wants to keep doing it and Barry wants to keep doing it, I enjoy it enough that I want to keep doing it so I think it will continue on for the foreseeable future."