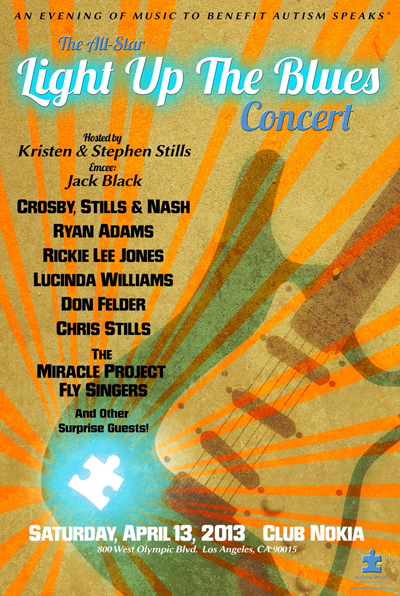 Thu, Mar 20, 14
The 2nd Light Up The Blues Concert To Benefit Autism Speaks Featuring Crosby, Stills & Nash, John Mayer, Don Felder, Brandi Carlile, Chris Stills, And Special Guests Is Sold Out
Light Up The Blues Documentary Capturing Last Year's Inspiring Event Will Be Released On April 1st On iTunes
The 2nd Light Up The Blues concert to benefit Autism Speaks, hosted by Kristen and Stephen Stills, has sold out. The concert, which features musicians Crosby, Stills & Nash, John Mayer, Don Felder, Brandi Carlile, and Chris Stills will take place on April 5th at The Theatre at Ace Hotel in downtown Los Angeles. Also performing are special guests—rapper Watsky, indie artist Xolie Morra and The Strange Kind, Rio "Soulschocka" Wyles, Adam Mandela Walden, and Neal Katz.
Last year's benefit was recorded as a documentary-style concert film titled Light Up the Blues, which will be released April 1st through iTunes. The film captures an inspired evening of music emceed by Jack Black and featuring musical guests Crosby, Stills and Nash, Rickie Lee Jones, Lucinda Williams, Don Felder, Chris Stills, and three gifted, budding musicians who are on the Autism Spectrum.
Executive Director of Southern California for Autism Speaks Matthew Asner states, "We are so proud to have been involved in this magic evening and are ecstatic that the evening's magic has been captured so beautifully in this wonderful film."
The film includes interview footage peppered with spontaneous backstage moments that give a realistic and touching look at the challenges presented by aAutism, as well as the tremendous hope and inspiration given to so many by individuals with Autism pursuing their dreams. All proceeds from the film will benefit Autism Speaks.
About GUESS Foundation:
Founded in 1994, the GUESS Foundation supports a wide range of causes whose messages promote nonviolence, tolerance, and equality to achieve social change. Leveraging our brand image of a strong, confident, empowered individual in a global landscape, we believe that every person deserves an equal chance to live the life he or she desires.
To learn more, please visit:
www.AutismSpeaks.org
www.crosbystillsnash.com