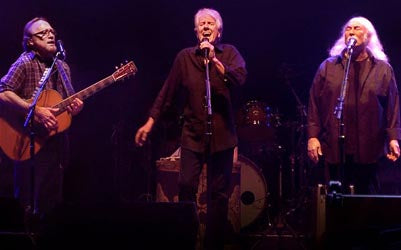 Sun, Mar 16, 14
Crosby Stills & Nash Announce U.S. Tour Dates for Summer 2014
THE TRIO WILL PERFORM CAREER-SPANNING FAVORITES AS WELL AS NEW SONSG
On the heels of their sold out March 2014 tour, Crosby, Stills & Nash have announced a series of U.S. concerts for this summer, beginning July 2 at the Sands Bethlehem Events Center in Bethlehem, PA. The group will perform songs from their extensive catalogue, as well as new material from each member. Advance tickets are available through the official CSN website at www.crosbystillsnash.com. For tickets and information click here: http://bit.ly/CSNTour.
The first leg of the summer tour runs through July 19, with a show at the Ravinia Festival in Highland Park, IL. Tour highlights also include the Filene Center in Vienna, VA (7/3), multiple nights at the Beacon Theatre in New York, NY (7/8, 9), Providence Performing Arts Center in Providence, RI (7/15), and Toyota Presents the Oakdale Theatre in Wallingford, CT (7/16). More dates will be announced shortly. Once again, CSN will be accompanied by its backing band featuring: Shane Fontayne (guitar), Steve DiStanislao (drums), Kevin McCormick (bass), James Raymond (keyboards), and Todd Caldwell (organ).
David Crosby, Stephen Stills and Graham Nash unite as "three together" for the Summer 2014 dates amid a full slate of side and solo projects:
David Crosby undertakes a sold out solo tour in the U.S. in April in support of CROZ, his first solo release in 20 years, with two additional sold solo shows at the end of July. The album was released January 28 on Blue Castle Records, the label Crosby and Nash founded in 2011, and debuted at #36 on the Billboard 200 chart.
Stephen Stills recently toured solo and with The Rides, his blues-rock trio with Kenny Wayne Shepherdand Barry Goldberg; their album Can't Get Enough was released last summer. Carry On, a 4-CD box chronicling Stills' career—produced by Nash and Joel Bernstein—also came out in 2013. On April 5th, Stills and his wife Kristen are hosting the 2nd Light Up The Blues Concert to benefit Austim Speaks in downtown Los Angeles. Proceeds from the sold out concert will go towards Autism Speaks' research and advocacy efforts for families and individuals impacted by the disorder.
Graham Nash recently wrapped a solo tour—followed by an ongoing book tour for his long-awaited autobiography Wild Tales: A Rock & Roll Life, published in September by Crown Publishing Group. He will be performing two solo shows at the brand new City Winery in Napa, CA on April 29 and 30. Nash also exhibited his artwork and photography throughout 2013.
This summer, CSN will be donating $1 per ticket sold, to charity. And, excluding VIP and special benefit seat packages thru their official website, all tour tickets sold to the general public are priced under $100. Details and complete tour schedule are available at www.crosbystillsnash.com . Special benefit seats are available through www.guacfund.org.
More than four decades since CSN first harmonized in Laurel Canyon, and played its first-ever concert as a trio at the legendary Woodstock festival, its members continue a creative partnership that is one of the most influential and enduring in music. David Crosby, Stephen Stills, and Graham Nash have each been inducted into the Rock and Roll Hall of Fame two times—with Crosby, Stills & Nash, and a second time with The Byrds, Buffalo Springfield, and The Hollies, respectively. They are also in the Songwriter's Hall of Fame, honored both for CSN as a group, and as individual solo artists.
www.crosbystillsnash.com
July 2 - Sands Bethlehem Event Center - Bethlehem, PA
July 3 - Wolf Trap for the Performing Arts/The Filene Center - Vienna, VA
July 5 - Bethel Woods Center for the Arts - Bethel, NY
July 6 - MAC Center - Monmouth University - West Long Branch, NJ
July 8 - Beacon Theatre - New York, NY
July 9 - Beacon Theatre - New York, NY
July 12 - Borgata Spa & Resort - Event Center - Atlantic City, NJ
July 15 - Providence Performing Arts Center - Providence, RI
July 16 - Toyota Presents the Oakdale Theatre - Wallingford, CT
July 18 - Jacobs Pavilion At Nautica - Cleveland, OH
July 19 - Ravinia Festival - Highland Park, IL