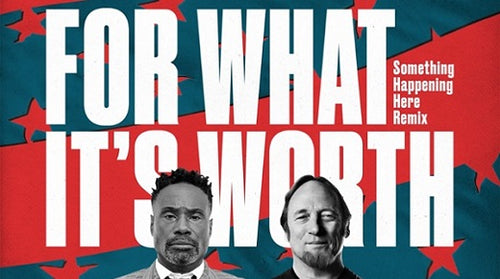 Tue, Oct 06, 20
Stephen Stills and Billy Porter Rally Voters with "For What It's Worth" Remix
Ahead of what is surely the most consequential presidential election in history, music legend Stephen Stills and award-winning actor-singer Billy Porter have joined forces to motivate voters by releasing their recent collaboration, "For What It's Worth (Something Happening Here Remix)" on October 6.

Proceeds from the song will benefit Michelle Obama's When We All Vote, a non-profit, nonpartisan organization dedicated to increasing participation in all elections and closing the race and age voting gap by changing the culture around voting.

Watch the video:
Listen HERE.


"'For What It's Worth' was written at a time when social media was called the transistor radio, which played an important role in many historical cultural evolutions and revolutions," says Stills. "Music has always been a powerful form of communication, and through this irrepressible international language we can continue to deliver the message to inspire positive change. It has historically brought people together for a common purpose and means for positive national evolution and is proof positive of its continuing effectiveness as we see new artists reinforce the message. My greatest hope is to instill change in one another in a way that can and will make a difference now."
Earlier this year, Porter released his own cover of "For What It's Worth," but the new recording, billed as "Billy Porter featuring Stephen Stills," is a dramatic re-imagining of the iconic Buffalo Springfield protest anthem that Stills wrote in 1966. A record number of viewers were treated to an advance preview of the track when the two men teamed for a virtual performance of the song following Michelle Obama's speech on the opening night of the 2020 DNC Convention in August.
Improving on a classic is no easy task, but by combining their shared sense of civic duty with their own immeasurable talents, Stills and Porter turn "For What It's Worth (Something Happening Here Remix)" into a powerful call to action for a new generation. Set against a walloping rhythm, Stills' bluesy electric leads are stinging and poignant, and rising through righteous background vocals are Porter's majestic and impassioned lead vocals issuing those immortal words: "Stop, children, what's that sound/ everybody look what's going down."
Rare is the song that is both timely and timeless, a composition that can capture the zeitgeist of multiple eras. Such is the case with "For What It's Worth." Originally, Stills was inspired to write the song in response to the violent unrest that followed a Sunset Strip protest over a club curfew. As he recalls, "I wrote this song immediately following my first-hand experience of the riots on Sunset Boulevard in the '60s. Witnessing this event propelled me to do my civic duty, which resulted in my penning the song for immediate release."
Speaking to Rolling Stone, Stills remembered how the meaning of the song grew as he wrote: "I quickly realized that my little song spoke to much more than simply a confrontation between a gathering of young people paying a last visit to a favorite music bar about to be demolished and a rather excessive number of LAPD riot police intent on dispersing the overflow crowd that had spilled into the street.
"I purposefully resisted the urge to rewrite or expand upon my theme and let the metaphors speak for themselves. Fortunately, succeeding generations have found something in it that touches them personally or alludes to their own sense of foreboding during tumultuous times."
Pointedly, Still adds, "My only regret is the lyrics are still all too relevant today, and it's critical for us all to do our civic duty, primarily to vote."
Expanding on how today's socio-political climate compares to the 1960s, Stills told Variety, "The swamp is just as deep and the mendacity and hypocrisy is, too. There's a lot more on the line now. This election has certainly brought everybody to the party, and I'm glad to see it."
For his part, Porter hopes that the new version of "For What It's Worth" can serve as an inspiration for voters both young and old. "This song means so much to me. I am first generation post-civil rights, and this song speaks truth power as much today as it did when it first came out. Stephen has been so gracious and lovely to work with. It was such an honor to perform with him on the DNC – virtually, of course. As we close in on this fever-pitch of an election, I hope that our version of 'For What It's Worth' will raise people up and inspire them to take action, use their voice, and vote, vote, vote."
"For What It's Worth (Something Happening Here Remix)" was produced by Zack Arnett for SUR Productions, executive produced by Bill Butler and Carmen Cacciatore for The Butler Music Company Inc., and mixed by Eric Von.