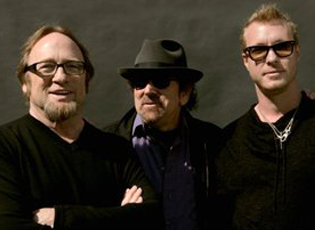 Mon, Jul 21, 14
Crosby, Stills & Nash Thrill Cleveland with Harmony and Hits
Crosby, Stills and Nash in concert, July 18, 2014, Cleveland
Each of the trio's constituents was either the front man or principal songwriter in a popular '60s group: played guitar and sang with The Byrds; honed his songwriting chops in The Hollies.
We're talking Goosebumps City, people.
That's precisely the sort of resilience CSN has shown over years, repeatedly putting aside whatever personality crises and legal wrangles might arise to, well—as the title of the opening tune suggests—"Carry On."
Dinosaurs in a digital age? Perhaps.
But sublime renditions of "Long Time Gone," "Southern Cross," and "Lay Me Down" evinced that Cleveland was once again bearing witness to the true titans of tunesmithing. And when Stills shuffled out front to crank out one of his many sizzling guitar solos (or when Crosby hit those crystalline high notes, or Nash waxed romantic on electric piano), that pinch-me-I'm-dreaming feeling was palpable.
Looking more like college professors than granola-munching undergrads, the grandfatherly triumvirate sang of choice and chance on "Delta" (from 1982's Daylight Again), using rivers and oceans to symbolize time's passage. "Cathedral" (from 1977's CSN) juxtaposed Catholic altars with the druidic Stonehenge in its solemn scrutiny of religious-motivated killing—and boasted a tag-team keyboard solo courtesy James Raymond (Kurzweil synthesizer) and Todd Caldwell (Hammond organ).
Nash entry "Back Home" paid homage to The Band's Mark "Levon" Helm, who died in 2012—and any moroseness suggested by the ashes-to-ashes subject matter was offset by Stills' incendiary duel with co-guitarist Shane Fontayne (Bruce Springsteen, Sting). The guys even used the song's "Take a load off" lyric as a springboard to segue into Helms' classic "The Weight" at the conclusion.
The sexagenarian Stills walks with a mild limp these days (possibly aggravated by back problems), and his gravelly voice has lost a little oomph, but the man behind Manassas still cooks on guitar. Wielding a Fender Stratocaster (with a Coca-Cola brown finish) most of the night, Stills ripped on "Don't Want Lies," a number he wrote last year with Kenny Wayne Shepherd (in a side project called The Rides). He was in full bad-ass mode on "Bluebird" (from the 1967 record Buffalo Springfield Again), and—despite Crosby and Nash's tight vocals—transformed Bob Dylan's "Girl from the North Country" into a six-string tour de force.
"I wonder how many times we've played here," remarked Crosby, during his been here, done that preface to "Déjà Vu."
Nash's upbeat-but-sad "Military Madness" indicted world governments (specifically our own) for their knee-jerk violence and called for a sea-change in foreign policy. Other "no more war" moments punctuated the set, and though little has changed in Washington, D.C. since Vietnam with respect to war-mongering, Crosby said they still sing about peace because "We don't like to give up."
Drummer Steve DiStanislao provided the proper balance of rock and restraint on "Helplessly Hoping, while bassist Kevin McCormick's subtle grooves underpinned the guitar-and-keyboard mixes on Nash tearjerker "Here For You."
Everyone had a chance to shine, whether on his instrument or at the microphone. Swaps between guitars (Fender Telecasters, Martin acoustics, and big-bodied Gretchs) were frequent, resulting in visual as well as aural diversity. The entire Crosby, Stills & Nash firm was onstage together most of the time, but occasionally the fellows relieved one another, with one or two principals heading up a song while the third rested in the shadows. On the delicate "Guinnevere," for example, Crosby and Nash held court as Stills recuperated in the wings, contemplating the Cleveland skyline. The rotational strategy was effective, and assured there was always something cool to see and hear.
The traces of anger heard in Nash's voice on some of the more politically-charged material revealed his passion. Even in his silver years the ex-Hollie isn't content to just go through the motions. Performing barefoot, the Renaissance man dedicated the fiery "Burning for the Buddha" to the Tibetan monks now suffering at the hands of Chinese overlords. Nash said he was inspired to write the tune after seeing an image of one such holy man protesting by way of self-immolation.
"I'm a photographer myself," he explained. "And that image was indelible."
Indeed, Nash spent the better part of Friday afternoon at the Cuyahoga County Public Library in Parma, where he fielded questions from The Plain Dealer's Michael Heaton before a packed auditorium. Nash—who collected rare prints in the '70s and '80s while developing his shutterbug skills—scheduled the extra stop to discuss his new photo memoirs, Wild Tales: A Rock and Roll Life.
Stills electrified the pavilion with pilot-for-hire hit "Treetop Flyer" as the gargantuan (643 ft.) iron ore freighter Sam Laud navigated a bend in the Cuyahoga River (which winds behind the stage). Seated once more at his electric piano, Nash pounded out a jubilant "Our House," whose familiar "two cats in the yard" chorus was snatched up and regurgitated by delighted fans. Nash's change-the-world opus "Chicago" was a showstopper replete with additional guitar heroics from Stills, who then grunged up the psychedelic Springfield smash "For What It's Worth" with ethereal, reverberated notes. Again, the crowd took up the refrain, echoing the "stop, children, what's that sound" on cue.
"Love the One You're With" (another Stills chestnut) was an exuberant sing-along finale, spiraling into another vocal and instrumental band workout that had floor and bleacher patrons up and dancing. The evening's encore (which, like opener "Carry On" hailed from1970's Déjà Vu) brought everything—band, audience, and concert (the opener likewise hailed from 1970's Déjà Vu album) full circle: The life lessons encapsulated in "Teach Your Children" have no expiration date.
And so it would seem with the whole of the Crosby, Stills & Nash catalog. These guys may be "older than dirt" (as Crosby quipped), but their music (and messages contained therein) is timeless.