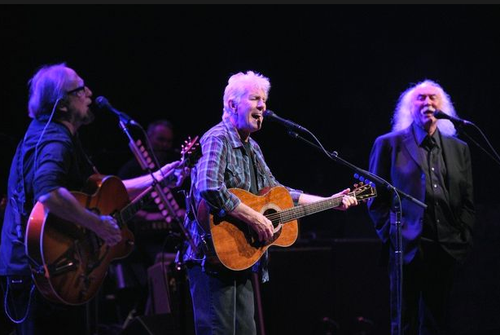 Thu, Jul 03, 14
Crosby, Stills & Nash kick off 2014 summer tour with well-received Bethlehem show
"We intend to rock out until they put us in our graves."
This is how Graham Nash first addressed the sold-out crowd of more than 2,200 gathered Wednesday night at the Sands Bethlehem Event Center to witness Crosby, Stills & Nash kick off their summer tour 46 years after having formed.

They started the show with "Carry On/Questions," just as they did back in June 2012 when they performed at the event center. This time, however, they followed it up with a noticeably slower version of the Nash-penned romp "Marrakesh Express" off their 1969 self-titled debut album.
Crosby, Stills & and Nash may be playing their music at a few beats per minute less than they wrote it, but the songs have survived for decades and are able to ignite a passion within those who attend their shows as well as at any time. Evidence being in the roar delivered upon the first few chords strummed by Stephen Stills on "Southern Cross." The song built on the energy generated in the crowd as it was turned loose in the sing-a-long choruses before "nicely making way" into a great ovation with everyone on their feet.
With their microphones standing about 8 to 10 feet apart, they were backed by a band of five excellent musicians who helped fill in the sound and bring the potency to songs such as "Cathedral," "Love the One You're With" and "Military Madness." The latter led to another audience participation moment with the repeated chant of "No more war" that ends the song.
The trio wore black outfits, with David Crosby the sharpest looking of the bunch with a button shirt and long jacket.
"Doesn't look bad for 45, does he?" Nash jokingly asked the crowd referring to Crosby.
For the rest of the show, there were more than a couple times when Nash, who has taken the role of being a real spokesperson and face for the group, and Stephen Stills got their time alone on the stage. Nash was solo as he sang a new song unofficially called "Here For You," written for his recently born grandchild as well as twin boy grandchildren on the way. Stills, though his rebounding voice is still shaky from years of health issues, beautifully delivered "Girl From the North Country," a Bob Dylan song that inspired him to become a songwriter.
Crosby was uncharacteristically blending into the background on this night. While he sang harmonies on all the songs for which he was on stage, he sang no lead vocals, and disappointingly absent were his show staples such as "Almost Cut My Hair" or "Guinevere." It is unclear if Crosby was under the weather or if it was something else that held him back. (Crosby's publicist later confirmed he was under the weather.)
Whether it was because Crosby, Stills & Nash were in the Lehigh Valley, home of the legendary guitar factory, or if representatives from Martin Guitar were in the audience, the trio had great things to say about the company, its personnel and products.
Graham Nash dedicated "Just A Song Before I Go" to Martin Guitar CEO & Chairman Chris Martin and his associates for repairing Nash's Martin guitar after he put a hole in it at the end of the last tour. Stills talked about having a model so old, it has to be kept locked away.
Crosby, in one of his few interactions with the crowd all evening, talked about the Martin he has been using since 1970.
"This is what a D-45 is supposed to sound like," Crosby said as he strummed his pick loudly over the strings for a big chord. He then proceeded into the driving riff for "Déjà Vu."
There was more new material to be delivered, as all three men have been busy in the past few years on different projects.
Stills performed "Don't Want Lies," off a 2013 album with The Rides, joining fellow guitarist Kenny Wayne Shepherd and keyboardist Barry Goldberg. Nash had yet another new song to reveal called "Back Home," which was written to celebrate the life of the former drummer of The Band Levon Helm, who died back in 2012. The song was well received by the audience and it even ended with a transition into "The Weight," which was a delight. In his own right, Crosby has garnered high praise for "Croz," his first solo album in 21 years, although none of those songs made an appearance.
There were only two brief trips back to the days with their previous bands as they sang "Bluebird" and "For What It's Worth," both written by Stills while in Buffalo Springfield. With so much material compiled before thy even met one another, Crosby, Stills and Nash could fill their set with only songs written by them from their days in The Hollies, Buffalo Springfield, and The Byrds and no one would fault them for it.
The two-and-a-half-hour show closed out with "Teach Your Children" and left concert-goers flooding out of the venue on a high note, getting a little bit of everything from the three individuals who have melded thoughts and emotion with harmony and rhythm for nearly half a century.