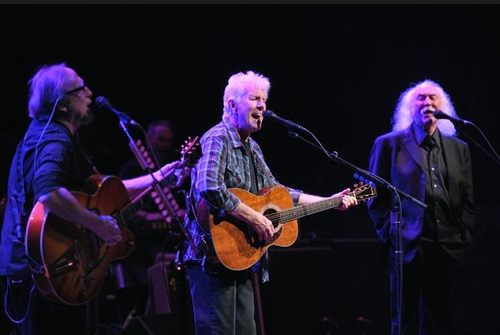 Thu, Jan 29, 15
Crosby, Stills & Nash Announce Second Night At Chicago Theatre On May 6
"The Trio Will Perform Career-spanning Favorites As Well As New Songs
Crosby, Stills & Nash have announced a second night at the Chicago Theatre on May 6. Tickets for this show will go on sale on February 7 at 10am. The US tour kicks off on April 29 in Lincoln, NE at the Lied Center and will wrap up on May 20 at the Oakdale Theatre in Wallingford, CT. This run features two stops at the State Theatre in New Brunswick, NJ, as well as two nights at the Kings Theatre in Brooklyn, NY. 
The group will perform songs from their extensive catalogue, as well as new material from each member.   Once again, CSN will be accompanied by its backing band featuring: Shane Fontayne (guitar), Steve DiStanislao (drums), Kevin McCormick (bass), James Raymond (keyboards), and Todd Caldwell (organ).  
As with previous tours, CSN will be donating $1 per ticket sold, to charity.
More than four decades since CSN first harmonized in Laurel Canyon, and played its first-ever concert as a trio at the legendary Woodstock festival, its members continue a creative partnership that is one of the most influential and enduring in music.  David Crosby, Stephen Stills, and Graham Nash have each been inducted into the Rock and Roll Hall of Fame two times―with Crosby, Stills & Nash, and a second time with The Byrds, Buffalo Springfield, and The Hollies, respectively. They are also in the Songwriter's Hall of Fame, honored both for CSN as a group, and as individual solo artists.
CSN 2015 TOUR DATES
ASIA:
March 5 - Tokyo, Japan – Tokyo International Forum Hall A
March 6 - Tokyo, Japan – Tokyo International Forum Hall A
March 9 - Osaka, Japan – Osaka Festival Hall
March 10 - Fukuoka, Japan – Fukuoka Sun Palace Hall
March 12 - Nagoya, Japan – Nagoya Shi Kokaido
March 16 - Manila, Philippines – Araneta Coliseum
March 19 - Singapore, Singapore – The Star Theatre
UNITED STATES:
April 29 - Lincoln, NE – Lied Center
April 30 - Sioux City, IA – Orpheum Theatre
May 3 - Milwaukee, WI – Riverside Theater
May 5 - Chicago, IL – Chicago Theatre
May 6 - Chicago, IL – Chicago Theatre - JUST ADDED
May 9 - Atlantic City, NJ – Caesars Atlantic City - Circus Maximus
May 10 - Baltimore, MD – Hippodrome Theatre
May 12 - New Brunswick, NJ – State Theatre
May 13 - New Brunswick, NJ – State Theatre
May 15 - Brooklyn, NY – Kings Theatre
May 16 - Brooklyn, NY – Kings Theatre
May 19 - Boston, MA – Citi Performing Arts Center
May 20 - Wallingford, CT – Oakdale Theatre