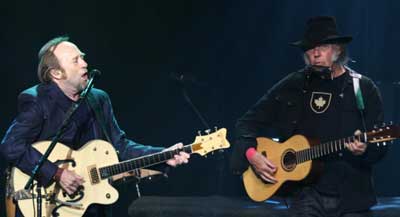 Sat, Apr 02, 16
Neil Young joins Stephen Stills' 4th Light Up the Blues autism benefit
Stephen Stills and his long-ago Buffalo Springfield band mate Neil Young will take part again in Stills' fourth Light Up the Blues concert to benefit Autism Speaks, scheduled for May 21 at the Pantages Theatre in Hollywood.
Young was among Stills' guests at last year's edition of the event, and this year Stills and his band, the Rides (which also features guitarist Kenny Wayne Shepherd and veteran blues-rock keyboardist Barry Goldberg) will be joined by Jakob Dylan, Nikka Costa, the War on Drugs, Chris Stills and emcee Jack Black.
"The last three Light Up The Blues benefits have been incredible, life-changing events for all involved," Stills and his wife, Kristen Stills, co-organizers of the show, said in a joint statement. "We are so grateful to be able to bring such a special night of music to the entire community, and to continue to support Autism Speaks."