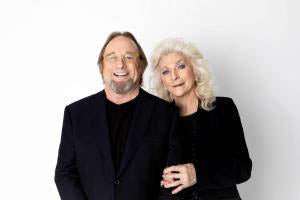 Fri, Mar 03, 17
Music icons Stephen Stills and Judy Collins to play Boarding House Park
By Ed Hannan, Sun Correspondent

Music icons Stephen Stills and Judy Collins will play at Boarding House Park on Sunday, Aug. 20 at 6:30 p.m.
The announcement was made Wednesday morning by the Lowell National Historical Park.
Stills is, of course, a former member of Buffalo Springfield and a member of the on-again/off-again Crosby, Stills & Nash. Judy Collins, who played the Lowell Summer Music Series in 2006, is a legend in her own right. She's perhaps best known for her 1970s singles "Amazing Grace" and "Send in the Clowns," but she also happens to be Stills' ex-girlfriend (from several decades ago) and the inspiration behind the Crosby, Stills & Nash classic "Suite: Judy Blue Eyes."
This year marks the 50th anniversary of Stills meeting Collins, and they decided to mark the occasion with a joint summer tour. It's the first time Stills and Collins have ever been onstage together. They'll be pulling songs from their respective catalogs as well as debut songs from their upcoming album, due out this summer. Throughout the evening, they'll sprinkle stories from their careers.
Should be a one-of-a-kind evening and a highlight in the 2017 schedule.
Tickets for Stills and Collins, which go on sale Thursday, March 2, at 9 a.m., are $54 in advance and $154 for premium seating.
The park also announced Wednesday that Trombone Shorty & Orleans Avenue will return to Boarding House Park for the third time in four years on Saturday, June 10, at 7:30 pm.
Tickets for Trombone Shorty & Orleans Avenue, which go on sale Friday, March 3, at 9 a.m., are $39 in advance and $139 for premium seating.
Trombone Shorty played Boarding House Park in 2014 and 2015, and those in attendance at the Red Hot Chili Peppers shows last month at TD Garden, may have seen Trombone Shorty, who was the opening act for the concerts.
You may remember Trombone Shorty's two-hour-plus concert in 2014 that turned the Boarding House Park courtyard into a dance party where everyone, from toddlers to seniors, was dancing in the aisles and out of their lawn chairs.
The New Orleans native began his career as a bandleader at the age of 6, toured internationally at age 12, and spent his teens playing with various brass bands throughout New Orleans and touring worldwide with Lenny Kravitz. Orleans Avenue is a funk/rock/jazz/hip-hop band that has toured across the U.S., Europe, Australia, Russia, Japan and Brazil.
Tickets to Trombone Shorty & Orleans Avenue as well as Stephen Stills and Judy Collins will be available at www.lowellsummermusic.org.