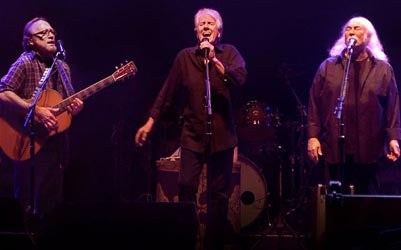 Wed, Oct 09, 13
Crosby, Stills & Nash, Royal Albert Hall - Review
By Neil McCormick, Rock critic - The Telegraph
Their banter may be jokey, but the veteran rockers' music still sounds seriously good.
"Someone worked out that between us, we have about 900 songs," noted Graham Nash, standing at the centre of one of the great musical partnerships of popular music.
"Yeah, well, Neil probably wrote 433 of them, like, yesterday," joked David Crosby of their absent sometime band mate and musical fellow traveller, Neil Young. "I didn't know Neil wrote Yesterday?" Nash shot back. "The things you learn about your partners, even after all this time."
The banter was good, informal, funny and extemporary enough to have Crosby creasing up with laughter. The music was better: fluid, explosive, intimate, emotional, a journey into melody and sound, three hours of old and new songs that hit all kinds of peaks from so many different angles. The blazing blues rock of Stephen Stills's Southern Cross, the psychedelic anthemic swirl of Crosby's Almost Cut My Hair, the perfectly rounded sweet piano pop of Nash's Our House… The songs kept coming, casting spells and working magic, the sound of three very distinctive talents blending in perfect harmony. Crosby's Guinevere was a delicate, acoustic mind bender played in some far flung guitar tuning. "That was pretty fantastic," the walrus mustachioed singer nodded approvingly at Nash. "We never do it quite the same. Not because were jazz geniuses, just I can never remember how we did it last time."
Crosby, Stills and Nash at the Royal Albert Hall was, in some ways, a quite extraordinary concert, and in others an ordinary one. Because these three consummate musicians and songwriters have been playing together for 44 years in various combinations and fans know that they give it their all, clearly deriving as much pleasure from the music as the audience. Touching 70, silver haired and variously hirsute, Stills and Crosby look like a couple of affluent old pirates, whilst barefoot and clean-shaven Nash has the bearing of an eccentric, retired professor. Age has withered the voices a little, although they retain the flavour of their glory days; when they blend in the dazzling harmonies of Helplessly Hoping they sound untouched by time. But equally striking is that they remain determinedly creative. "We have this problem, we keep writing new songs," says Crosby, while Nash adds that they are going to play them too, "'cause we're a ballsy band." This is usually a signal for audiences to head for a toilet break but CSN's new material has a depth, conviction and range to match their classics.
"I'd like to thank the elderly person's council for allowing me to do that," jokes Stills, after leading them through a beautiful, slinky blues groove that, Nash reveals, the rest of the band first heard during afternoon sound-check. A slightly edgier character than his old hippy companions, but arguably the most talented of them all, Stills's cosmically wonderful guitar playing is as nuanced and expressive as any you will ever hear and lifts everything to another plane. Generously incorporating a fantastic five piece band of sensitive, virtuoso players, this classic trio are a continuing reminder that music is a unifying life force, greater than the sum of its parts, and truly extraordinary when the individual parts are all perfectly right.