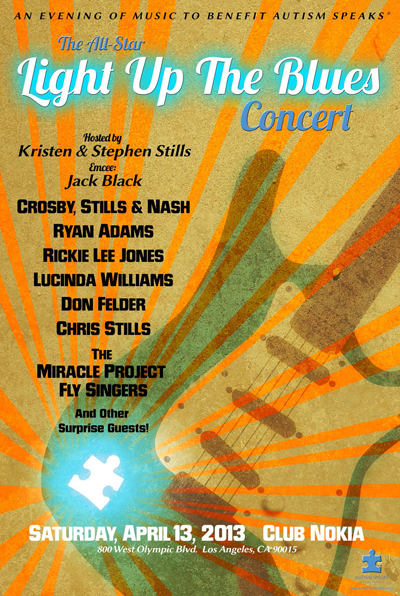 Tue, Feb 18, 14
Crosby, Stills & Nash, John Mayer, Don Felder, Brandi Carlile, Chris Stills & Special Guests Team Up To Benefit Autism Speaks
The 2nd Light Up The Blues Concert To Benefit Autism Speaks On April 5Th At The Historic Theatre At Ace Hotel In Downtown Los Angeles — Hosted By Kristen And Stephen Stills, The Evening Celebrates Autism Awareness Month
Los Angeles, CA, February 19, 2014: Crosby, Stills & Nash (CSN), John Mayer, Don Felder, Brandi Carlile, Chris Stills and many special guests will return to Los Angeles on April 5 at The Theatre at Ace Hotel for the 2nd Light Up The Blues Concert -- An Evening of Music to Benefit Autism Speaks, the world's leading autism science and advocacy organization. Also performing are special guests -- rapper Watsky, indie artist Xolie Morra, Rio "Soulschocka" Wyles, Adam Mandela Walden, and Neal Katz. The benefit concert will begin at 7:30 PM.
Tickets go on sale this Saturday, February 22 at 10 AM PT through all Ticketmaster outlets, and online at: http://www.ticketmaster.com/event/09004C4EAABFAF7A
The April 5 event spotlights Light It Up Blue , Autism Speaks' annual global awareness and fundraising campaign celebrated by the international Autism community during World Autism Awareness Day and throughout Autism Awareness Month in April. Proceeds from the Light Up The Blues Concert will go towards Autism Speaks' research and advocacy efforts for families and individuals impacted by the disorder.
"We are so thrilled to be doing this again. Last year's Light Up The Blues benefit was such an incredible event, life changing for all involved. We are so grateful to be able to bring such a special night of music to the Autism community and to support Autism Speaks," says Kristen & Stephen Stills. Light Up The Blues will celebrate the many gifts of autistic individuals, while supporting Autism Speaks in their mission to raise awareness and continue to enact their successful advocacy on behalf of all those who navigate through the journey of Autism.
"We value our partnership with the Stills family on this amazing event that not only has great music, but also highlights the incredible talents of individuals on the spectrum, and lets them shine bright for a wonderful evening, " said Matt Asner, Executive Director of Southern California for Autism Speaks. 
About Autism Speaks Autism Speaks is the world's leading autism science and advocacy organization. It is dedicated to funding research into the causes, prevention, treatments and a cure for autism; increasing awareness of autism spectrum disorders; and advocating for the needs of individuals with autism and their families. Autism Speaks was founded in February 2005, by Suzanne and Bob Wright, the grandparents of a child with autism. Mr. Wright is the former vice chairman of General Electric and chief executive officer of NBC and NBC Universal. Since its inception, Autism Speaks has committed more than $195 million to research and developing innovative resources for families. Each year Walk Now for Autism Speaks events are held in more than 100 cities across North America. On the global front, Autism Speaks has established partnerships and related activities in more than 40 countries on five continents to foster international research, services and awareness. To learn more about Autism Speaks, please visit AutismSpeaks.org. The benefit will be held at The Theatre at The Ace Hotel, 929 South Broadway, Los Angeles, CA 90015.