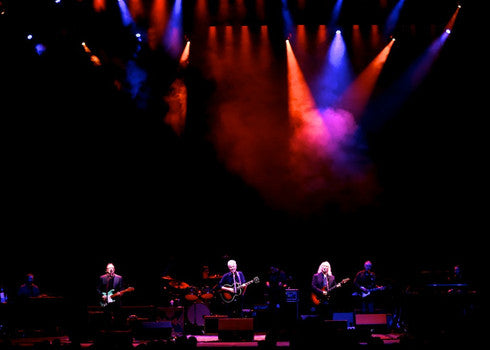 Tue, Mar 25, 14
Crosby, Stills & Nash In Concert at The Fox Theatre in Atlanta
Nearly 45 years ago, I heard "Suite: Judy Blue Eyes" for the first time when David Crosby, Stephen Stills and Graham Nash, along with Neil Young, took to the stage at Woodstock and opened with the song after telling the crowd "This is only the second time we've performed in front of people. We're scared shitless!"
Okay, so I was with my father who helped coordinate the security at Woodstock and I was only nine years old, but it's a memory that sticks with me to this day. (Luckily I wasn't tripping on acid like everyone around me and I still have the memory!)
Flash forward to last night at The Fox Theatre in downtown Atlanta. Four and a half decades and who knows how many millions of miles on the road, and CS&N are still bringing music to the masses at sold-out concerts. Likely, they're no longer "scared shitless" to hit the stage and perform in public, which is definitely a good thing.
Opening the night with "Carry On," CS&N took the crowd through their musical history in a two-set intimate evening in the southern capital. Fans closed their eyes and listened to the songs that were part of their youth during times of upheaval and strife in the country.
Known as a "Folk Rock Supergroup," Crosby, Stills and Nash have long spoken out on political issues and last night was no exception as, between songs, the band members made comments about current world tensions and domestic issues. In all honesty, it wouldn't be a CS&N concert without a little political discourse thrown in now and then.
As I write this, I'm listening to a stream of their songs on their website, www.crosbystillsnash.com. The music takes me back to what were better times, when life seemed more simple and easy going. Damn… I wish I had a joint in hand.
It was an enjoyable night with good friends and great music. The guys are older, not quite as vocally sharp as they once were but still musically tight. Despite the age and road miles, Crosby, Stills and Nash are one of those musical acts I will see over and over again because they are a part of my musical family.
Like the cousin I catch up with at the annual reunions, CS&N are a part of my history, a part of my life and will remain so for as long as their music is continued to be played on classic rock stations and CD players everywhere, as well as their live concerts.
For more on CS&N, including upcoming tour dates, visit www.crosbystillsnash.com.