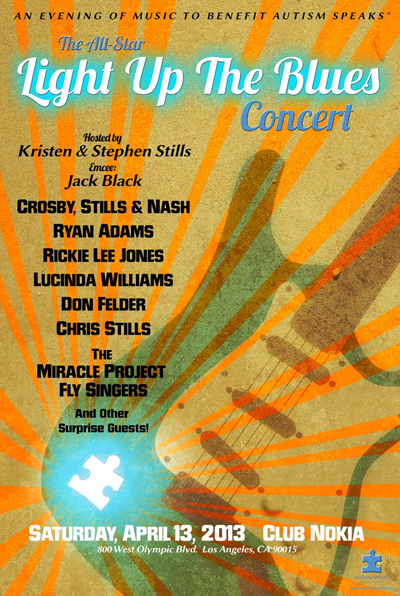 Mon, Apr 07, 14
2nd Light Up The Blues Benefit Concert Raises $320,000 For Autistm Speaks
DOCUMENTARY-STYLE FILM RECORDED AT LAST YEAR'S CONCERT IS AVAILABLE NOW THROUGH ITUNES
On April 5th, Stephen Stills and his wife Kristen hosted the 2nd Light Up The Blues Concert to benefit Autism Speaks in downtown Los Angeles at the newly restored Theatre @ the ACE. The sold out concert raised $320,000 to benefit Autism Speaks' research and advocacy efforts for families and individuals impacted by the disorder. The event featured Crosby, Stills & Nash, John Mayer, Don Felder, Brandi Carlile, and Chris Stills. A number of special guests also performed, including rapper Watsky, and four artists on the Autism Spectrum, indie artist Xolie Morra and The Strange Kind, Rio "Soulschocka" Wyles, Adam Mandela Walden, and Neal Katz.
Light Up the Blues, a documentary-style film recorded at last year's concert to benefit Autism Speaks is available now through iTunes: https://itunes.apple.com/us/movie/light-up-the-blues/id845025382
The film includes interview footage peppered with spontaneous backstage moments that give a realistic and touching look at the challenges presented by autism, as well as the tremendous hope and inspiration given to so many by individuals with Autism pursuing their dreams.
David Crosby, Stephen Stills and Graham Nash unite as "three together" to perform songs from their extensive catalogue as well as new material from each member for the Summer 2014 dates beginning July 2 in Bethlehem, PA. In addition, each member has a full slate of side and solo projects:
David Crosby undertakes a sold out solo tour in the U.S. in April in support of CROZ, his first solo release in 20 years, five (5) sold out shows at the Troubadour in Los Angeles, and two (2) sold out shows at Great American Music Hall in San Francisco. The album was released January 28 on Blue Castle Records, the label Crosby and Nash founded in 2011, and debuted at #36 on the Billboard 200 chart.

 

Stephen Stills just announced a 17-date solo tour, which starts May 8th in Santa Cruz, CA and ends on June 3rd in Tucson, AZ. He recently toured solo and with The Rides, his blues-rock trio with Kenny Wayne Shepherd and Barry Goldberg; their album Can't Get Enough was released last summer. Carry On, a 4-CD box chronicling Stills' career-produced by Nash and Joel Bernstein-also came out in 2013.

 

Graham Nash recently wrapped a solo tour-followed by an ongoing book tour for his long-awaited autobiography Wild Tales: A Rock & Roll Life, published in September by Crown Publishing Group. He will be performing two solo shows at the brand new City Winery in Napa, CA on April 29 and 30. Nash also exhibited his artwork and photography throughout 2013.
To learn more, please visit www.AutismSpeaks.org